Muscat: The number of arrivals increased at the end of February 2021 compared to January, by 2,165.
According to the monthly statistical bulletin of the National Center for Statistics and Information, the total population in the Sultanate by the end of February 2021 was about 4,496,419 , this includes 2,746,571 Omanis,  1,749,848 expatriates.
The Governorate of Muscat has the highest population density at the end of February with about 1,310,743, followed by North Al Batinah Governorate with 788,884 and the Governorate of Musandam remains the least populated at about 49,292.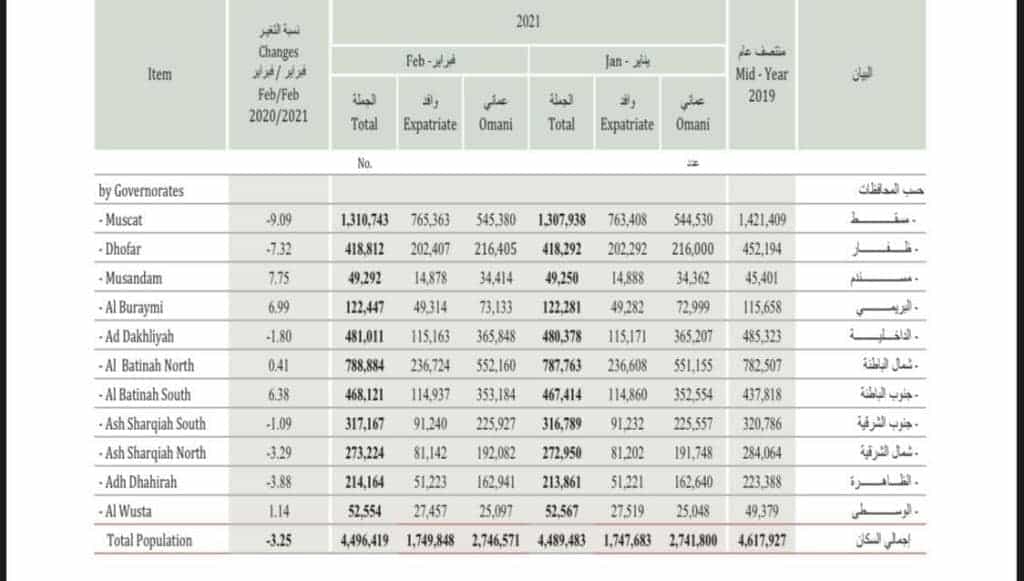 The statistic showed that there are 1,440,370 male and female expatriates working in the Sultanate, and they are divided into three categories:
In the private sector: 1,149,933
In the family sector: 249,081
In the government sector: 41,356
The category below the general education diploma tops the list of working expatriates with 535,068 immigrants, followed by the "reads and writes" category with 501,368 expatriates, and the general diploma category and its equivalent comes with 242,418 expatriates, while the rest of the numbers are distributed among the other groups from which the category comes "My mother does not read or write" with 3,023 expatriates.
The Bangladeshi nationality continued to lead to expatriate workers in the Sultanate with 546,615, followed by the Indian nationality, which comes second with 491,427 and the third Pakistani nationality with 182,885.
It is noteworthy that on April 22, 2017, the percentage of expatriates in the total population of the Sultanate reached 46%, which is the highest percentage for them, and expectations indicate that the number of expatriates in the Sultanate will continue to decrease, based on the process of Omanisation and replacement pursued by the Sultanate in the government and private sectors.