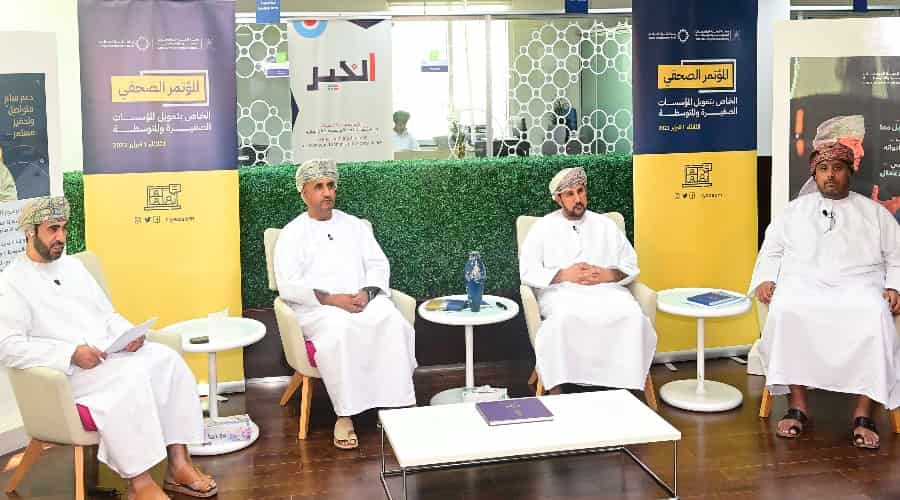 Muscat (ONA): The number of enterprises in the Authority of Small and Medium Enterprises Development (ASMED) that obtained a Riyada card increased during 2021 to about 10k new enterprise, despite the economic conditions and challenges faced by SME's
This came during a press conference organized by the ASMED in cooperation with Oman development bank (ODB)
The press conference touched on financing SME's with the aim of shedding light on the strategic directions for enterprise development, the entrepreneur readiness program, the financing programs, the ODB role in managing the leading portfolio and the mechanism for receiving funding requests.
Abdulaziz Said Al Reesi, Deputy Chairman of ASMED said that holding this conference comes after the royal commendation of His Majesty Sultan Haitham bin Tarik for the great role of SMEs and the entrepreneurship sector.
Al Reesi added that the total number of SME's registered with the Ministry of Commerce Industry and Investment Promotion reached 175,000 at the end of last October 2021. He pointed out that 619 projects benefited from the emergency financing program. Those projects were hard hit in 2021.
He said that the number of Omanis working in SMEs registered with the ASMED until last Dec 2021 stood at 69,594 while the contributions of SMEs in exports until the end of September 2020 amounted to about RO 2,155,744.
He explained that the development of SME's during 2022 is represented in several axes, the most important of which is the incubation of about 50 new enterprises in specialized incubators, the launch of 60 new Sanad service centers, the addition of about 40 new services and the launch of 7 new financing programs.
He added that the Entrepreneur Readiness Program will attract about 70 entrepreneurs during the coming period. He pointed out that the ASMED worked on a study to determine the effects of the Covid-19 pandemic on SME's in 2021, which led to many measures.
Al Reesi said, "We started displaying the products of small and large enterprises in large shopping centers to develop Omani products in ways that are attractive to the consumer. There is a tendency with the ASMED to display these products on global platforms, and a tender has been floated for this purpose.
On his part, Aboud Amer Al Amri, acting Deputy Chairman of ASMED for Finance and investment, Director General of Planning, explained that the ceiling for financing individuals and SME's reached up to RO 250,000 with the possibility of additional financing for existing projects that are committed to paying the installments.
He said that there are 7 financing programs related to in-country value (ICV), financing industrial projects, franchise projects, capital, incubated companies, business accelerators, start-ups, craft products, sub-projects, entrepreneurship, vending carts, and "Dhamin" program.
Hamad Salim Al Harthy, Head of Finance for Small, Medium and Micro Enterprises and Portfolio management at the Oman Development Bank, said that the lending portfolio of the ASMED, which is managed by the bank, amounted to about RO 73 million which was pumped into all projects of SME's during the last period. He pointed out that the rate of non-performing loans (NPL) in the leading portfolio of the ASMED amounted to about 8 percent.