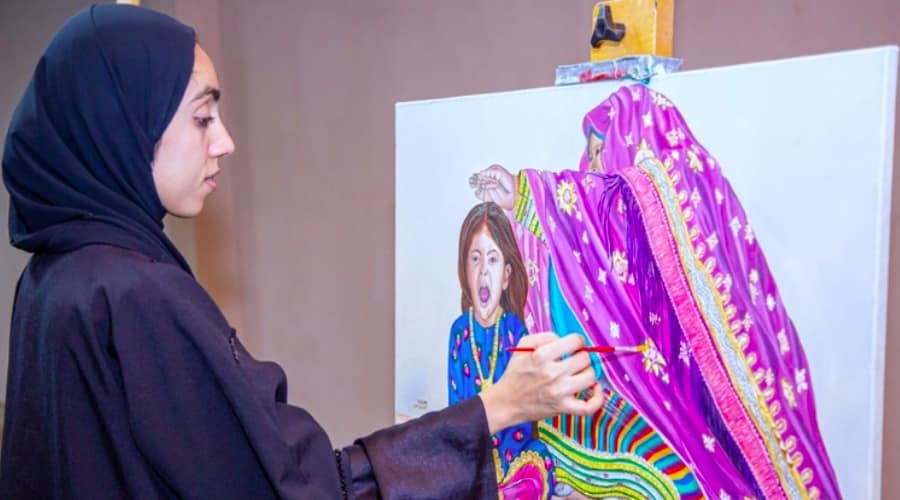 Sohar: The Live Painting Exhibition was inaugurated today at the Sohar Entertainment Center, with the participation of 25  artists from the Arts Studio in North Al Batinah of the Ministry of Culture, Sports and Youth.
The exhibition, which lasts for three days, includes 30 paintings of arts that represent a number of international art schools, such as the realist, impressionistic and expressive school, and focus on Omani symbols and personalities and the heritage and historical monuments that the Sultanate of Oman is famous for, as well as drawings expressing Omani customs, traditions and identity.
The artists participating in the exhibition will also draw live in front of the audience throughout the period of the exhibition, in addition to displaying the largest digital painting in the exhibition measuring (120 * 120) centimeters, containing images of the Sultans of Oman throughout history with a number of heritages and symbols of the Busaidi state.
It should be noted that the opening of the exhibition coincides with the activities of the Sohar Festival, which is held at the Sohar Entertainment Center and continues until the eighteenth of next December.
25 artists participate in Live Painting Exhibition in Sohar pic.twitter.com/qVgzl0UtWr

— Arabian Daily (@arabiandailys) November 24, 2022