Sohar: A number of sporting events, theatrical, artistic and youth performances were held today at the Sohar Entertainment Center as part of the activities of the Sohar Festival, amid a wide participation of youth and visitors to the festival.
Muhammad bin Sulaiman al-Yahmadi, Director General of the Directorate General of Culture, Sports and Youth in North Al Batinah Governorate and head of the Entertainment, Sports and Theater Events Committee, explained to Oman News Agency that there are 30 activities implemented by the committee over four days, varying between theatrical performances, where four plays are held, including two for the street theater category. In addition to sports events and competitions in beach volleyball, football, and taekwondo shows, in addition to artistic activities for youth and children represented in gypsum molding, sculpture, coloring, competitions in talents, traditional games, and wireless aircraft.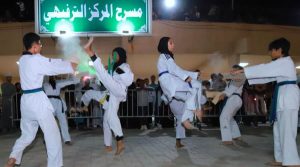 Al-Yahmadi also indicated that these activities vary in different places in the Sohar Entertainment Centre. Whether on the center's stage or in open spaces, special courts for beach volleyball and football have also been set up, as well as artistic corners for sculpture, painting and plastic arts.
It is noteworthy that the activities of the Sohar Festival will continue until 18th December, coinciding with the 2022 World Cup matches.