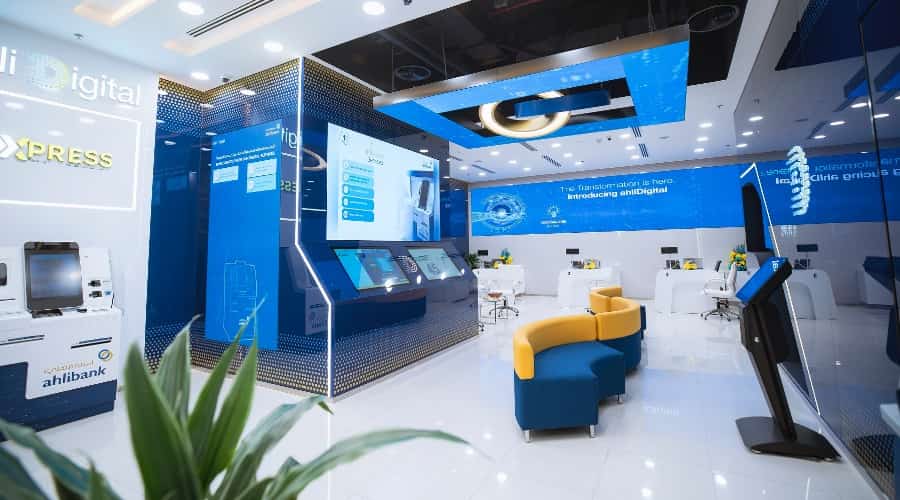 Muscat: With its ongoing commitment to enhance its presence within the Sultanate of Oman and provide seamless digital banking services, ahlibank has announced the grand opening of its latest digital branch in the vibrant heart of Muscat, Al Mouj.This strategic expansion reflects ahlibank's unwavering dedication to delivering top-tier digital financial solutions to an ever-expanding customer base.
Situated strategically within the bustling community of Al Mouj, the new digital branch is meticulously designed to offer an unmatched banking experience to both the Bank's valued existing clients and prospective customers. This cutting-edge branch marks the second digital branch in ahlibank's portfolio, boasting an array of innovative services. What sets this branch apart is its integration of state-of-the-art technology, featuring the Multi-functional Kiosk, which is poised to streamline transactions efficiently. All this is achieved while preserving the hallmark-personalized service that ahlibank is renowned for.
Muneer Al Balushi, Assistant General Manager – Head of Retail Distribution at ahlibank, expressed his enthusiasm for the new digital Al Mouj branch, stating, "We are delighted to extend our services to this thriving locale. This branch epitomizes our commitment to providing hassle-free, digital financial solutions and exceptional customer experiences to the residents of Al Mouj. As ahlibank continues to expand, our focus remains on delivering the highest standards of banking services to our esteemed community."
Al Balushi further emphasized, "Our presence signifies the extension of our network and our dedication to becoming an integral part of the local society. We eagerly anticipate contributing to the region's growth through our digital means and forging enduring relationships with our valued customers."
The digital branch offers a multitude of services through the Multi-functional Kiosk, which include instant account opening for new customers, account statement printing on demand, cheque book printing, unblocking debit cards, as wells new and supplementary debit card issuance, replacement and activation. Round the clock personal video assistance is also provided to customers, further enhancing their banking experience.
ahlibank's new digital branch in Al Mouj aligns seamlessly with its enduring commitment to promoting economic development and acting as a catalyst for positive change within the Sultanate of Oman. This branch symbolizes not only financial empowerment but also serves as a testament to ahlibank's dedication to delivering excellent digital services and expanding its presence throughout the nation.