Muscat: The Authority for Public Services Regulation (APSR) today held a press conference during which it unveiled its plan for this year (2023) and its accomplishments through last year.
At the outset of the press conference, Dr. Mansoor Talib Al Hinai, APSR Chairman, spoke about the attention accorded by the government to the development of policies and regulations, with a view to empowering different sectors of concern to the APSR.
Al Hinai pointed out that the APSR oversaw the execution of the endorsed plans, through licensed firms, to diversify sources of alternative energy and devise necessary regulations for market liberalization. He elaborated on a project for direct electricity sale titled "Spot Market". He noted that the project's first phase brought about a mechanism of direct sale for power generation firms whose contracts have expired, as well as consumers relying on household production.
In the field of renewable energy, Al Hinai also highlighted APSR's efforts to ensure the efficiency of energy in government buildings and an approach to replace less efficient lightings with higher-efficiency ones. He also spoke about future plans and projects of the alternative energy sector, noting that it is scheduled to replace 30% of traditional power with alternative energy by 2030.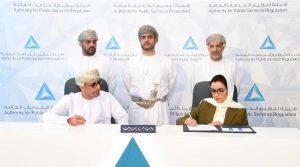 In its plan for 2023, the APSR focuses on sustainability, efficiency and credibility. These are projected to be realized by implementing projects designed to upgrade the quality of services rendered to subscribers, ameliorating regulations, attracting investments, developing human resources, achieving digital transition and carbon neutrality and meeting the goals of Oman Vision 2040.
In other comments, Al Hinai confirmed that technical investigations on electricity outage in September 2022 showed that the outage was not related to any cyberattack or a shortage of supply or power generation or defective network planning or technical fault related to the safety of the electricity system.
On the sidelines of the press conference, APSR and power and water companies signed the objectives of Oman Vision 2040 in the energy field.