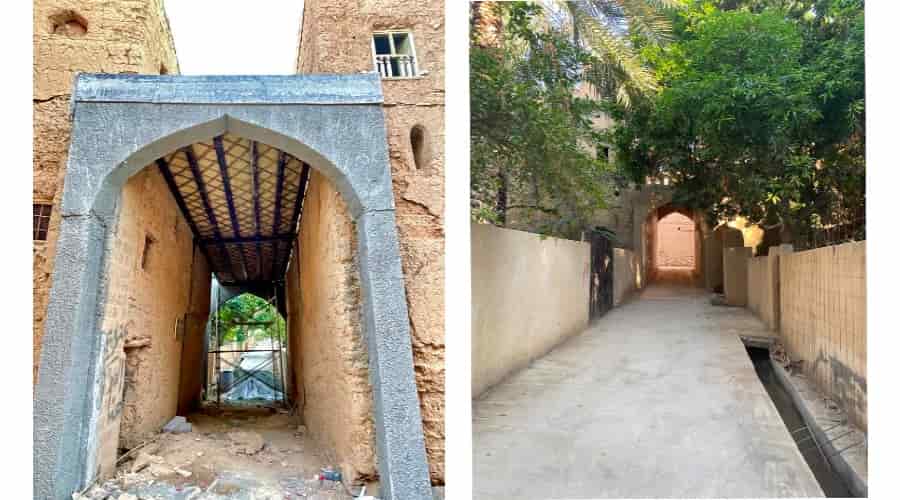 Al Hamra: The Civil Committee for the Development of Al-Hamra Wilayat in Al-Dakhiliyah Governorate has completed the restoration of a number of tourist and archaeological sites in the state, "Al-Sabahat" and the old roads between the orchards, including the restoration of "Sabah Al-Nab" the second gate in the old quarter.
Saeed bin Hamad Al-Abri, a member of the Wilayat Development Committee, said that there are upcoming beautification projects with the support of the people, pointing to the completion of the Al-Sahma-Sabah Al-Naab road repair project, which connects the Al-Sahmah area with the old neighborhood and is one of the most prominent projects implemented by the National Committee for the Development of the Wilayat of Al-Hamra in cooperation with the people of the wilaya During the last period.
He stressed the importance of the project in linking the Al-Sahma area with the historic lane of the town of Al-Hamra, which passes between orchards and is linked to other agricultural roads.
The project was implemented in several phases, which included the reconstruction and expansion of the watercourses adjacent to the road that irrigate the farmers' farms and orchards, in addition to paving the road with iron and concrete mix with a length of 380 meters and a width of about 4 meters, in addition to rebuilding "Sabah Al-Na'ab" with a beautiful heritage design, and building a number of The number of new arches is up to (10), and the rehabilitation and preparation of some internal secondary roads linked to this road.