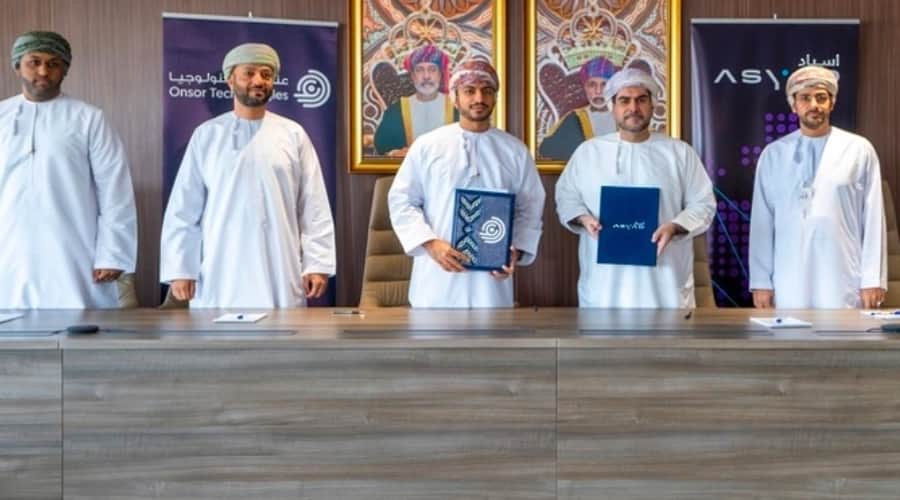 Muscat: Committed to enhancing its business performance by integrating 4IR technologies and smart solutions across its operations, Asyad Group has penned a technology partnership agreement with Onsor Technologies, an Omani IT start-up to provide innovative solutions to Asyad Shipping`s fleet.
The Agreement is underpinned by Asyad Group's strategy to engage the private sector in supporting research and innovation and leveraging new technologies to develop systems that meet the needs of the maritime sector.
Onsor Technologies will be looking into the current requirements of Asyad's shipping fleet and will work on enhancing its operations by developing Internet of Things (IoT) sensors to be installed in some of Asyad ships to wirelessly transmit engine performance data and readings to servers dedicated for those purposes. Those devices that enable better and faster data processing and analysis using machine learning and artificial intelligence algorithms will help monitor and improve the performance of Asyad Group fleet.
Ghaith Mohammed Al Darmaki, Asyad Group's Chief Technology Officer said: "As we believe innovation is the driving force behind business growth and operational excellence, we have joined hands with Onsor to equip our fleet with advanced IoT-based sensors that will enable real-time data integration and processing. This will help reduce downtime and maintenance costs, promote growth and sustainability and improve operational efficiency."
"This joint venture not only helps maximize the capabilities of Asyad Group's maritime assets, but it also reaffirms Asyad's Group's continuous efforts to empower Omani SMEs and create new prospects for them to tap into global markets", he added.
On his part, Eng. Mu'adh Al Hinai, CEO of Onsor Technologies stated: "We consider the technology partnership signed with Asyad Group a crucial step forward for Onsor towards expanding its innovative solutions by deploying 4IR technologies, particularly in the transport and logistics sectors".
Al Hinai added that the collaboration is equally beneficial for Asyad Group's production and operational efficiency as it will help reduce its fleet's operational costs and enable smart monitoring of various indicators such as gas emissions.