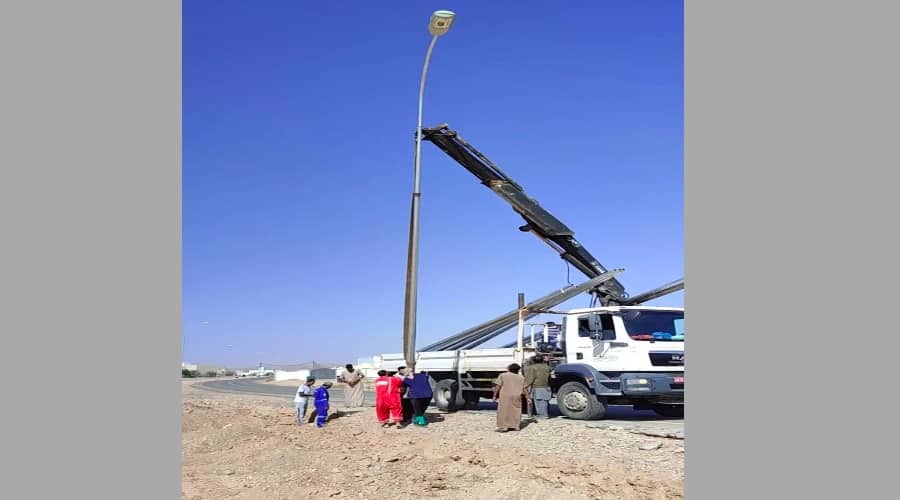 Bahla: Al Shawamekh Oil Services Company has supported the installation of 21 lighting poles in the town of Al Maamour in the Wilayat of Bahla, at a cost of 8,000 Omani riyals.
Al Shawamekh Oil Services Company confirmed that it is proceeding with the implementation of the social responsibility program throughout this dear country to provide support and assistance and move forward to serve all members of society under the wise leadership of His Majesty Sultan Haitham bin Tariq – may God protect and preserve him – the leader of its renewed renaissance. The initiative to support the town of Al-Maamour in Bahla is a small part within the objectives of its social responsibility, as the youth of the town of Al-Maamour took the initiative to support the installation of lighting poles, stressing that Al-Shawamikh Oil Services Company, like other local community companies in the energy sector (oil and gas), places community and citizen service as a priority Among its social responsibility, especially in the concession areas in which the company operates.
It is worth mentioning that Al Shawamekh Oil Services Company is one of the major local community companies, and it is a private national shareholding company with 100% Omani ownership. It was established in 2011, based on lofty orders from the late, God Almighty, His Majesty Sultan Qaboos bin Said – may his soul rest in peace – in order to Creating investment opportunities for citizens residing in the oil concession areas in the wilayats of Bahla and Adam in the Governorate of Al Dakhiliyah within the Sultanate's direction to enhance the local added value by empowering local companies in the oil and gas sector. In the past period, "Al Shawamekh Oil Services" managed to rehabilitate, train and employ a number of national cadres in the areas of The franchise is in addition to supporting the activities of the local community socially, sportingly and culturally, in appreciation of the shareholders, who amounted to more than 1,600 contributors from the people of the concession areas in the states of Bahla and Adam.