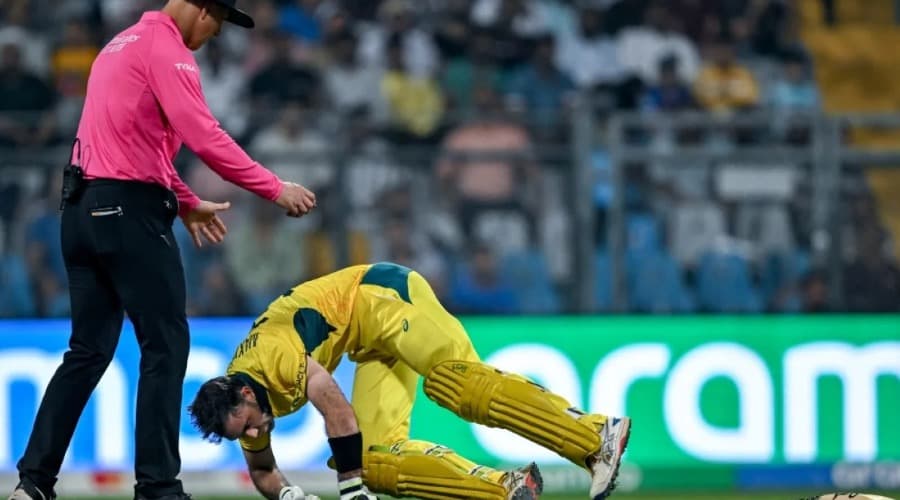 MUMBAI: Glenn Maxwell said his entire body was in pain and that he almost retired during an epic match-winning double century for Australia at the 50-overs World Cup, hailed Wednesday as the greatest one-day knock of all time. The mercurial Australian smacked a remarkable 201 not out as his team successfully chased 292 for victory over Afghanistan in Mumbai on Tuesday.
It was only the third double hundred in World Cup history and the first in a run chase. But it came at a price, with Maxwell riddled by severe cramps. He collapsed in agony at one stage, barely able to walk as he limped between the wickets. Maxwell admitted discussing with Australian physio Nick Jones whether he should retire after his body gave up and he sank to the ground while on 147 and with 55 runs still needed to win.
But with a place in the World Cup semi-finals at stake and Maxwell leading the recovery after Australia had slumped to 91-7, he defied the discomfort. "It was a strange one, because I was cramping in one of my toes, which was sort of going up the front of my shin. And then as I set off to try and get down the other end, I cramped in that calf as well," he told Australian media.
"So I was cramping both sides of my lower leg. And as I went 'Oh no, I'm cramping,' I cramped in my left hamstring at the same time. So I was like, 'I've got both legs.' And then I had a back spasm when I hit the ground. "So I was just like full body just in pain."
'Loves playing for Australia'
Jones suggested he should retire, but Maxwell was having none of it after being told the chances of being able to return after treatment, if needed, were not good. "We talked about coming off, trying to get some work into my back and trying to loosen up my legs a little bit," said the 35-year-old, who missed Australia's previous match due to a concussion after falling off a golf cart. "Jonesy, the physio, said it would be really hard for me to come back down the stairs after that. "We just came up with 'let's stay at the same end' for as long as you can until you feel like you can walk to the other end or if there's an easy single here and there." Maxwell went on to compile the highest-ever ODI score by an Australian in a 202-run eighth-wicket stand with captain Pat Cummins, who contributed just 12 in the partnership.
Cummins called it the "greatest ODI innings that has ever happened", sealing Australia's spot in the last four. "We were just chatting about it, all the players, and we've decided it's one of those days where you just go, 'I was there in the stadium the day Glenn Maxwell chased down that total by himself'," Cummins told cricket.com.au. "He was cramping, but I think you saw out there how much he loves playing for Australia." The sentiment was shared by some of the world's cricketing greats, who were also left stunned. "From Max pressure to Max performance! This has been the best ODI knock I've seen in my life," Indian legend Sachin Tendulkar said on X, formerly Twitter. — AFP