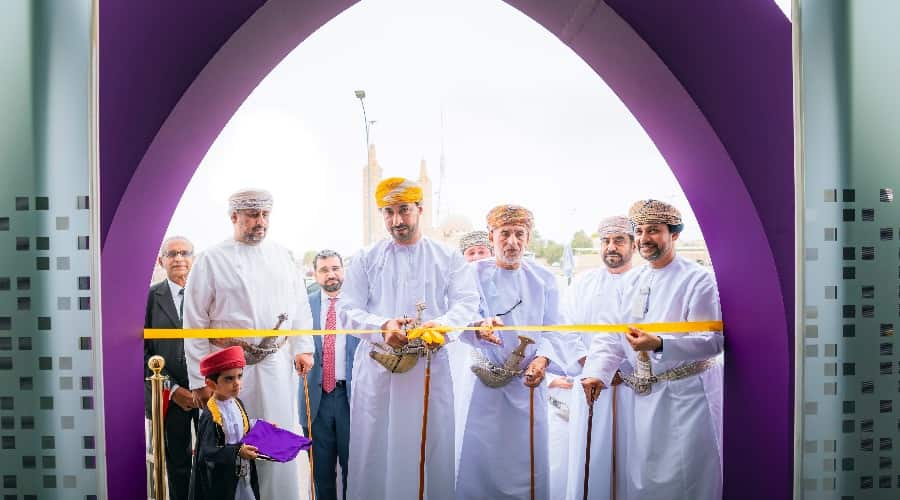 Muscat: In a remarkable display of its commitment to expanding its presence in the Sultanate, Bank Nizwa, the leading and most trusted Islamic Bank in Oman, proudly announces the opening of its 21th branch in Saham. The branch was opened in a official ceremony by His Excellency Dr. Sheikh Sultan bin Abdullah bin Saleh Al-Battashi, Wali of Willayat Saham alongside Sheikh Majid bin Ali Al Mamari, Mr. Hussain Al Shalwani, board members of Bank Nizwa, Mr. Khaled Al Kayed, Chief Executive Officer of Bank Nizwa and Executive management members. With this strategic move, Bank Nizwa reaffirms its dedication to cultivating an extensive network of branches and delivering exceptional Shari'ah-compliant products and services to its valued clients in Saham and its neighboring regions in Al Batinah.
Illuminating the substantial role this branch plays in Bank Nizwa's overall expansions effort, Mr. Khalid Al Kayed, the CEO of Bank Nizwa, stated, "The opening of our new branch in Saham signifies a momentous milestone for Bank Nizwa. Within Saham lies a strategically vital market that opens doors to abundant growth prospects. This expansion aligns perfectly with our continuous commitment to extending our presence and offering exemplary Islamic banking solutions that are innovative and cater to the needs of our valued customers across the Sultanate."
Bank Nizwa leads the way in Islamic finance, setting itself apart with an unwavering commitment to delivering groundbreaking Shari'ah-compliant solutions tailored to the local market's distinctive needs.  In step with the evolving preferences of its customers, the branch will offer an extensive array of banking solutions, encompassing in-branch, online, and digital services. Clients will gain access to a diverse portfolio of products and services thoughtfully tailored to cater to the specific requirements of individuals and businesses, incorporating specialized options for wealth management.
As Bank Nizwa extends its reach across the Sultanate, its unwavering dedication to its most prized asset—its people—remains steadfast. The new Saham branch proudly houses a team of exceptional Omani employees, boasting remarkable qualifications, extensive training, and invaluable experience. With indispensable skills, knowledge, and an innate understanding of the local dynamics, these individuals stand poised to meet the diverse needs of the Saham community. Embracing the forefront of technology, the branch seamlessly integrates digitalization and innovation into its operations, guaranteeing optimal efficiency and convenience for its esteemed customers.
As the pioneer and leading full-fledged Islamic Bank in Oman, Bank Nizwa further solidifies its position in the Sultanate with the establishment of the Saham branch, fortifying its expansive network across the country. Acknowledging the strategic significance of Batinah due to its coastal location on the Gulf of Oman and its substantial population, the bank has already set up branches in Sohar, Rustaq, and Barka. Saham has also undergone notable development in recent years, marked by numerous upcoming projects in the area. Through its newly inaugurated Saham branch, Bank Nizwa will cater to the evolving needs of government institutions, private companies, and small-and-medium enterprises (SMEs) in the region, further advancing Sharia-compliant banking and its distinctive advantages.
Bank Nizwa boasts an impeccable track record and is revered for its comprehensive range of services. These encompass a wide spectrum, ranging from easily accessible ATMs and CCDMs to cutting-edge online and mobile banking solutions. Additionally, the bank also offers personal financing, wealth management, Takaful, SME banking, business banking, and investment banking, all of which are aligned with Islamic principles.