Muscat – The Civil Aviation Authority (CAA) has issued an alert on heavy rain, thunderstorm across parts of Oman for Tuesday start 1:00 PM until 10:00 pm 
Weather forecast rainfalls ranging between (15-30) mm Downdraft wind (15-25)kt poor horizontal visibility due to dust rising during thundershower flash floods (wadis) 
Affected areas are the mountainous areas of South Al Batinah, North Al Batinah, Musandam, Al Dakhiliya, Buraimi, Al Dhahira, North Al Sharqiyah Governorate,
To ensure safety 
Immediately move away from low paces and wadis, and do not attempt to swim in wadis
Do not risk crossing wadis in order to protect yourself and those with you in the vehicle
Keep an eye on children and never allow them to approach wadis.
Meanwhile, CDAA Rescue teams in Dhofar Governorate dealt with an accident where a vehicle was stuck in the mud in the Shaat area in the Rakhyut wilayat.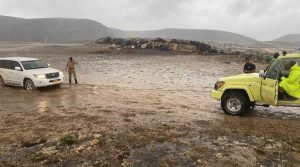 The authority calls on citizens and residents not to go out at this time, in order to preserve the safety of lives and property.
Rescue teams dealt with an accident with a vehicle stuck in the mud in the Shaat area in the #Rakhyut wilayat.

The authority calls on citizens and residents not to go out at this time, in order to preserve the safety of lives and property.
#oman #cyclonetej #heavyrain #tej pic.twitter.com/uRwihrG6SI

— Arabian Daily (@arabiandailys) October 24, 2023