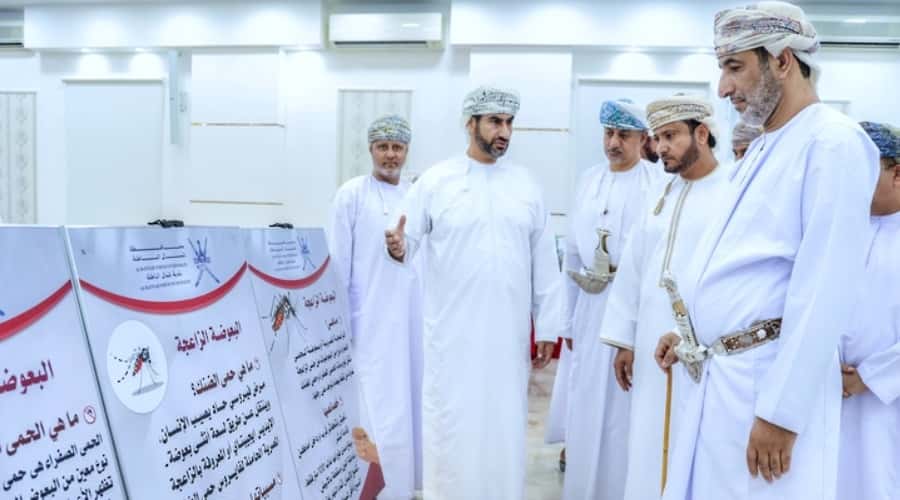 Sohar: North Batinah Municipality begins campaign to combat the Aedes aegypti at the governorate level and an exhibition accompanying the campaign.
Engineer Ali bin Dahim Al-Omrani, Director of the Health Affairs Department in the North Al Batinah Municipality, reviewed the objectives of the campaign, which comes within the framework of the efforts of the North Al Batinah Municipality and its departments to eliminate the Aedes mosquito through the implementation of continuous campaigns in the various states of the governorate.
He added that in the campaign, 16 teams were formed to combat mosquitoes in cooperation with the General Directorate of Health Services in the governorate, with the implementation of 5567 control campaigns that focused on mosquito breeding hotspots, in addition to activating the awareness and educational role in society by implementing 1599 awareness campaigns in the states. Governorate.
Engineer Sulaiman bin Hamad Al Sunaidi, Director General of North Al Batinah Municipality, emphasized the efforts made by the control teams through spraying operations using spray liquid, and the cooperation of community members to accelerate the control, achieve the desired goals of the campaign, and enhance community awareness of the dangers of Aedes mosquito reproduction.
Meanwhile, Dr. Khalid bin Saeed Al-Saadi, Director General of the General Directorate of Health Services, reviewed the statistics related to dengue fever, and stressed that the indicators are increasing and recommended the necessity of starting the fight and joining hands to limit the spread of the mosquito. The event also witnessed the opening of the accompanying exhibition, which included a number of illustrative aspects of the progress of work in campaigns to combat the Aedes mosquito. The event was sponsored by His Excellency Sheikh Mohammed bin Abdullah Al Busaidi, Governor of Sohar.