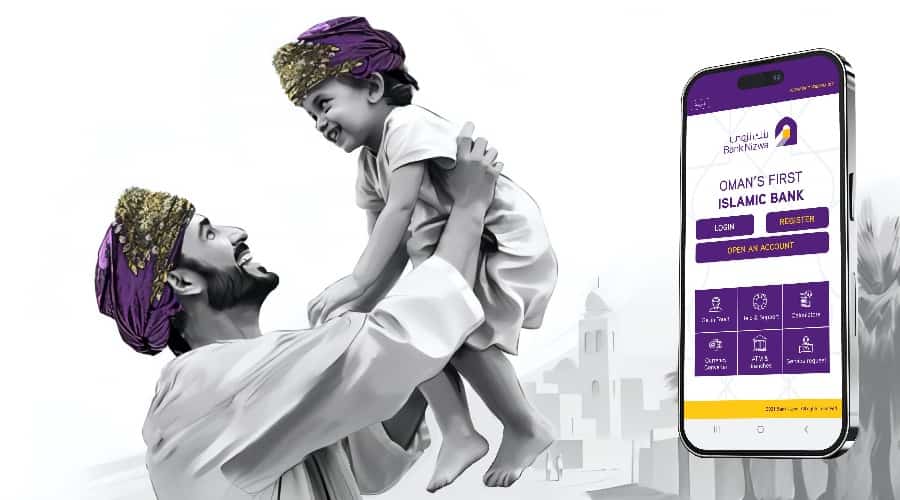 Muscat: In a move to simplify securing children's financial futures, Bank Nizwa, the Sultanate's leading Islamic bank, has launched the digital onboarding for Minor Accounts. With this service, parents can open fully Sharia compliant Minor Accounts for their children anytime, anywhere through the Bank Nizwa mobile application.
Bank Nizwa's Minor Account is designed with the aim to ensure children enjoy financially stable futures. The Bank offers parents the opportunity to open Sharia aligned accounts for their children, which will in turn instill in them a savings mindset and teach them the importance of making prudent financial decisions.
In line with the banking world leaning towards complete digitalization of services, Bank Nizwa brings banking solutions to customers' smartphones through its mobile application. Through the digital onboarding of Minor accounts, the Bank reaffirms its commitment to developing cutting-edge solutions that cater to the ever-changing needs of the customers. This feature will allow parents to easily open a new account for their children, set up automated deposits and savings targets, and tailor the accounts to their children's financial goals.
Commenting on the new digital onboarding feature, Sadiq Baqer Al Lawati, Head of Digital, eSales & Payment at Bank Nizwa said, "At Bank Nizwa, we believe our customers deserve unparalleled banking solutions that are simplified, accessible and hassle-free. With this in mind, we have launched the digital onboarding service for Minor Accounts. Through this move we have made securing their children's financial futures possible from the comfort of their homes, offices or on the go. It is our endeavor to ensure the future generations of Oman are well-informed in the ethical practices of Islamic banking, and empowered with strong money management skills that will last them a lifetime."
With the digital onboarding feature for the Minor Account, customers no longer need to visit branches to open bank accounts for their children. It can be done from anywhere at any time and in a swift streamlined way that means customers can start saving for their children's futures instantly. Bank Nizwa has also equipped the digital onboarding service with robust security measures to keep customers' financial information safe and secure and protect their assets.
As Oman's pioneering Islamic bank, Bank Nizwa has been at the forefront of developing innovative banking solutions to allow customers the freedom to plan and make financial decisions and investments efficiently. With the introduction of new digital features, Bank Nizwa cements its position as the most-trusted and preferred Islamic bank in the country. To experience the ease and convenience of opening a Minor Account, download the Bank Nizwa Mobile Application, available across all smartphones.