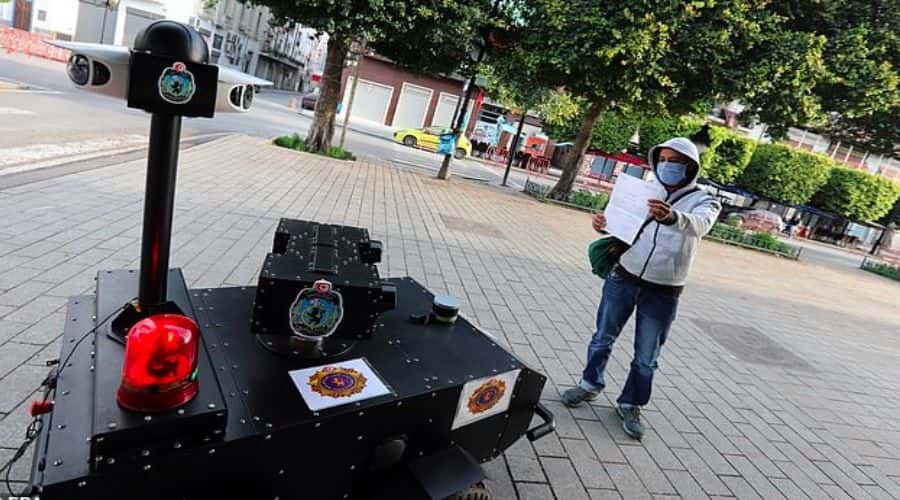 Many countries have lockdown their borders to prevent the spread of coronavirus. Tunisia has also been on a strict shutdown since 22 march 2020. Police are constantly deploying on the streets to check if people are following the lockdown rules. But we cannot see the police on the streets of the capital of Tunisia.
A police robot has been deployed to patrol areas of the capital of Tunisia, to make sure that people are strictly following the measures implemented by the government to limit the spread of coronavirus, as the lockdown announced the police are implementing robotics to control the public.
The robots called PGuards. the Home Ministry said a police robot has been deployed to patrol areas of Tunis to ensure that people follow the lock-down rules. It comes equipped with four full HD infrared cameras, 360-degree thermal-imaging camera, GPS and laser telemetry system. It can work for up to eight hours.
---
These robots will stop anyone who breaks the lockdown and gets on the road. What do you do as a police interrogator? Show me your ID. Don't know the country is on lockdown? Robocop asks the same questions. And advise if necessary. The government has issued a directive that during the lock-down period, everyone should stay in their homes and only be released for medical purposes or essential purchases.
Many were shocked to see a robot instead of a policeman on the streets. Some welcomed the move. But others complained that the robot was moving too slowly. But there are many videos on social media showing that a robot has stopped people. In it, the robot asks someone if they know there is a lock down. He replied that he was going to buy cigarettes. You can see in the video that the robot advises you to return home as soon as you buy a cigarette.
Meanwhile Tunis 📍 pic.twitter.com/KUzWjB4rtp

— تـ و نـ س ☪︎ Tunisia (@tunpost) March 28, 2020
The maker of this police robot is Enova Robotics. Anis Sahani, who created the robot, said the machine was first designed for security patrolling in 2015 and operates with artificial intelligence, autonomously.
The company is now planning to launch another robot that will help patients in Tunis hospital communicate with relatives. It sends pre-recorded messages to the people.
Meanwhile Tunisia has reported 553 confirmed cases and 19 deaths so far in the country, to limit the spread of the coronavirus we have implemented various measures in the country, says health ministry.