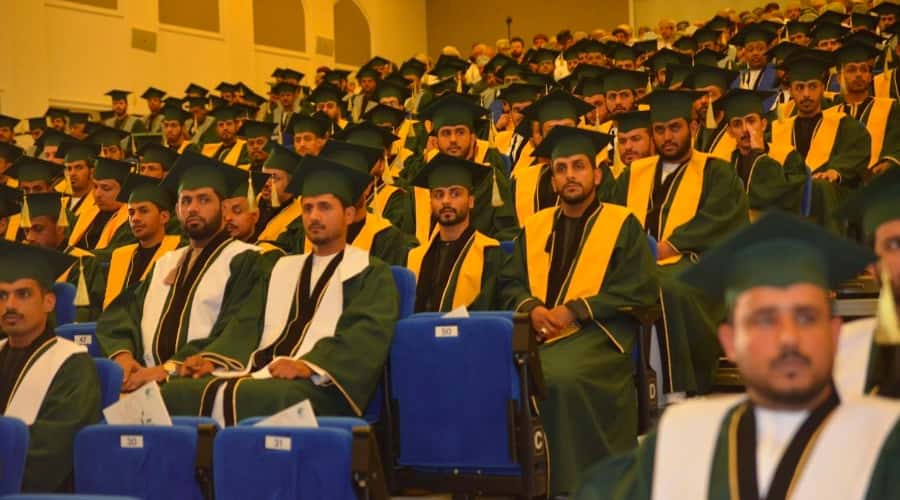 Dhofar: The University of Dhofar celebrated the graduation ceremony of 650 graduates from the faculties of law, engineering, arts and applied sciences, within the eighteenth batch of university students.
The celebration was sponsored by Her Excellency Dr. Rahma bint Ibrahim Al Mahrouqi, Minister of Higher Education, Scientific Research and Innovation.
The number of graduates of the Faculty of Law reached 199 male and female graduates, of whom 138 hold a bachelor's degree, and 61 hold a master's degree in public and private law, while the number of graduates from the Faculty of Arts and Applied Sciences reached 277, including 65 diploma holders, 156 bachelor's holders, and 56 master's degree holders.
The number of graduates from the College of Engineering reached 174, including 30 graduates with diplomas, and 144 graduates with bachelor's degrees in all disciplines of chemical, civil, electrical and electronic engineering, as well as computer and electricity, graphic design and interior architecture, in addition to architecture and mechanical engineering.
Prof. Amer bin Ali Al-Rawas, President of Dhofar University, delivered a speech in which he said: Dhofar University is taking confident and energetic steps to make this edifice a scientific beacon that has a prestigious position among higher education institutions, keeping pace with the growing national interest in developing higher education, scientific research and innovation, according to the vision of "Oman 2040″.
The program of the ceremony also included a speech for the graduates, honoring the academically distinguished students and the recipients of the academic excellence award, in addition to handing out certificates to graduates from various scientific disciplines for master's, bachelor's and diploma degrees.
The ceremony was attended by a number of honorees, excellencies, officials, members of the Board of Trustees and the university administration, and sheikhs and dignitaries of Dhofar Governorate.