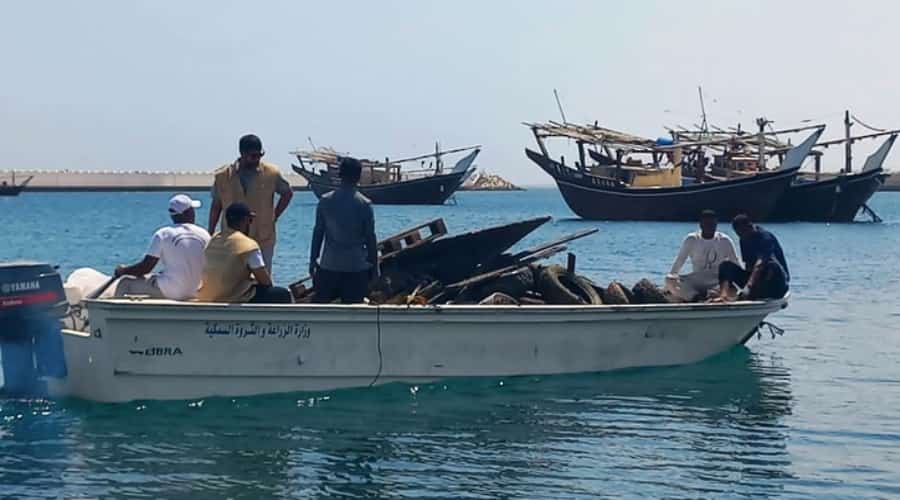 Sur:  The Environment Department in the Governorate of South A'Sharqiyah carried out a diving campaign to clean and remove fishing nets in the fishing port in the Wilayat of Sur under the slogan "Let our seas remain blue," with the participation of the Qurayyat divers team, the Department of Fisheries in the Wilayat of Sur, Bee'ah Company, and the Kulluna team for environmental preservation and sustainability at Al-Shurooq District School. And the Environmental Council team.
Muhammad bin Abdullah Al-Araimi, an environmental systems specialist at the Environment Department in South Al-Sharqiyah, explained that the cleaning campaign aims to preserve the integrity of the marine environment and protect it by removing waste from the sea and spreading awareness among fishermen and sea users to reduce negative practices that affect the safety of the marine environment and the beauty of the beaches.
He added that the campaign aimed to clean the area located inside the fishing port in the Wilayat of Sur from waste, and 15 divers and 10 volunteers participated in it. Five boats were used in the campaign, where waste and waste were removed from the beaches and seabed, including pieces of iron, old fishing nets, and soft drink cans. Metal, plastic manufactures of bags, bottles and tyres.