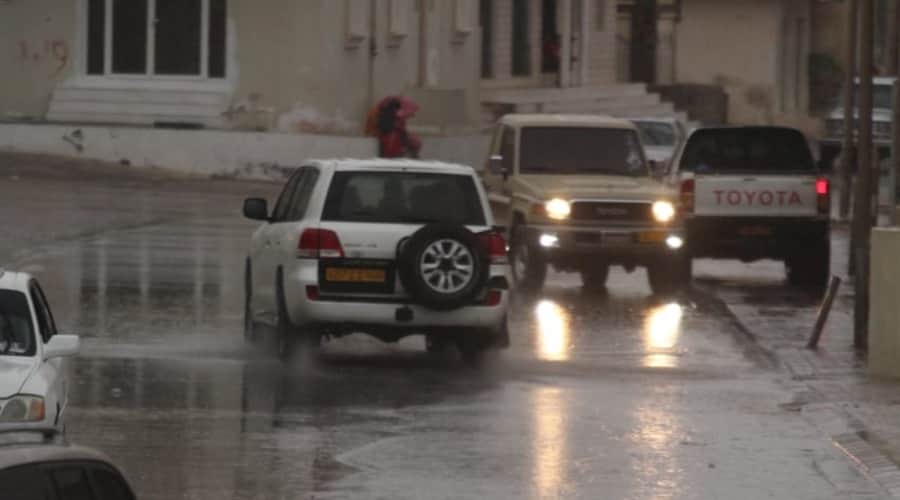 Salalah: The direct effects of the tropical condition (Tej) began on the state of Sadah, and light rain fell on the center of the state and the areas of Hadbeen, Hasik, Jawfa and Saub, leading to the formation of some water ponds.
These rains were accompanied by active winds at times and high waves. The sea is on the coast of the state, with the possibility of sea water extending to the low-lying coastal areas in the center of the state.
The latest analyzes of the National Multi-Hazards Early Warning Center indicated that the tropical condition "Tej" had begun to affect various parts of the Dhofar Governorate, with the influx of cloud masses and rainfall of varying intensity during the past hours, and that the third-degree tropical cyclone was centered southwest of the Arabian Sea over a latitude 12.9 north and 54.7 east longitude, the center is about 450 kilometers from the coast of the Sultanate of Oman, and the wind speed around the center is estimated at 100 to 112 knots.
The center expected the mass of rain clouds accompanying the tropical condition "Tej" – which is about 140 kilometers away (Sadah State) – to continue moving west-northwest towards the coasts of Dhofar Governorate and the sister Republic of Yemen, Al-Mahra Governorate, with chances of it developing into a fourth-degree tropical cyclone within 24 hours.
The impact on the governorates of Dhofar and Al Wusta is also expected to increase during the coming hours of the night of today, Sunday, October 22, with rain of varying intensity from (50 – 150) mm, leading to the flow of valleys and reefs and strong winds blowing (20 – 40) knots.
The sea will be rough on the coast of the Arabian Sea, ranging between (4-7) meters, with chances of sea water spilling over coastal areas and creeks. The Civil Aviation Authority calls upon everyone to take the utmost caution and caution and not to risk crossing valleys and to stay away from low-lying places. It also calls upon not to go to the sea during this period.