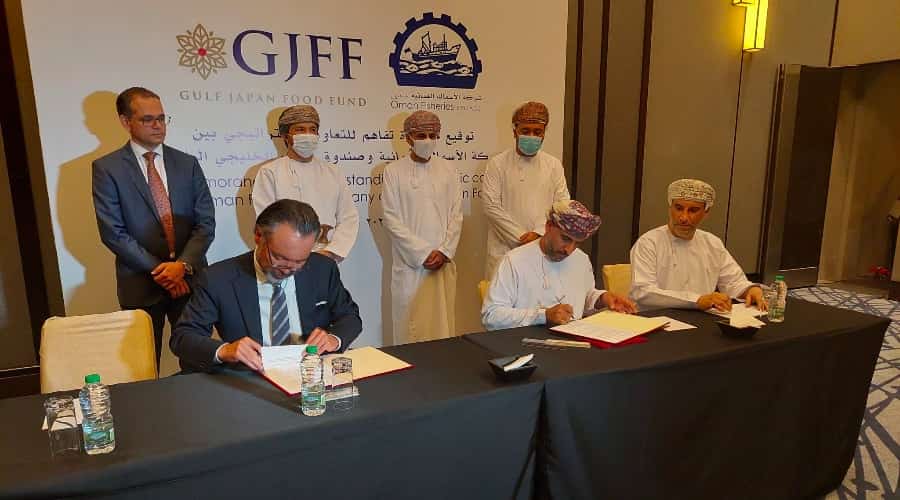 Muscat : Oman Fishers Company (OFC) today signed a memorandum of understanding (MoU) with Gulf Japan Food Fund (GJFF), enabling the latter to enter as an investor in the firm's capital by acquiring 31.4% of OFC's capital to the tune of $10 million.
This partnership will focus on enhancing fish industry, utilizing the fund's global expertise in private equity and earning the support of leading Japanese institutions and GCC sovereign investors.
The MoU figures among the endeavours of Oman Fisheries Company to become one of the world's leading firms in fish products, bolster investments in the fisheries sector and augment added value in accordance with international standards.
The MoU was signed by Suleiman bin Shutout Al Ghana, CEO of Oman Fisheries Company and Hitoshi Sugiura of GJFF.
The partnerships will empower Oman Fisheries Company to consolidate its long-term success, benefit from the Fund's network and customer base, while at the same time honing its fishery industries and resuming commercial fishing in a sustainable and profitable manner.
Haitham Mohammed Al Hannah, Board Chairman of Oman Fisheries Company, said that the MoU assumes great significance for the fisheries sector in the Sultanate of Oman and allows the company's products to access new markets.
Al Fannah added that the company will tap new techniques and come up with smart products capable of meeting the needs of target markets.
On his turn, Shutait said that the partnership will transform the company to the sphere of global firms and will cover a wide spectrum of opportunities in the domestic and international arenas, besides localizing human and utilizing expert human resources.