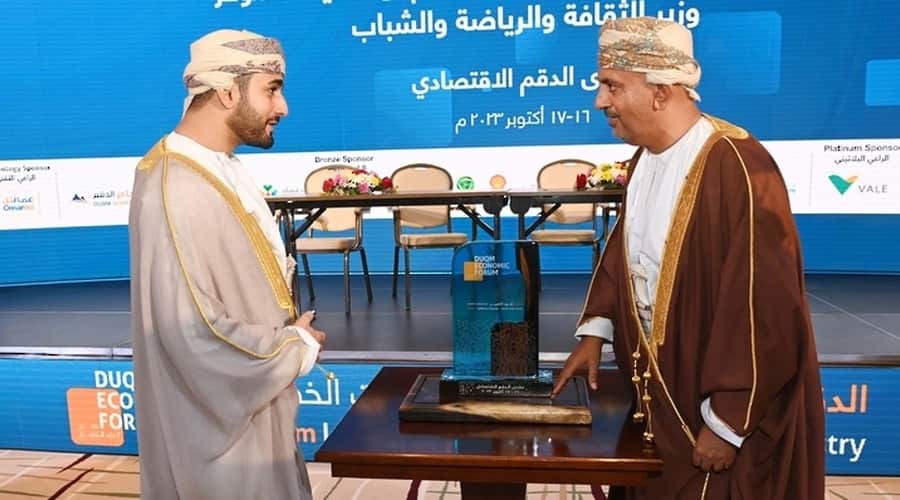 Duqm: HH Sayyid Theyazin bin Haitham Al Said, Minister of Culture, Sports and Youth presided today over the opening ceremony of the First Duqm Economic Forum.
The two-day forum aims to highlight the economic milieu and investment opportunities in the Sultanate of Oman in general and the Special Economic Zone in Duqm (SEZAD) in particular.
The event discusses new approaches in green industries and renewable energy, especially those attracted by SEZAD as part of its capacity as a centre for industry, investment and global trade. It also showcases the role of SEZAD in the efforts exerted towards the transformation to using renewables and technologies in production and exporting.
Dr. Ali Masoud Al Sunaidi, Chairman of the Public Authority for Special Economic Zones and Free Zones (OPAZ) said, "Over the next two days, this First Duqm Economic Forum will showcase the game-changing potential of Duqm – as a vibrant investment hub for new methods of manufacturing promoting innovation".
He added, "Relying on green energy generated from the sun and the wind that is available throughout the year, Duqm aims to move to new stages of energy production and green industries, which achieves new dimensions of added value and for further integration with economic zones, free zones and other industrial zones."
Al Sunaidi pointed out that "this Game-changing shift towards promoting green manufacturing will bring about a wealth of opportunities for innovation and investment in the production, transmission, transport, storage and export of green energy." "There are great opportunities. Besides the already licensed green ammonia and green Hydrogen projects within the zone the government has allocated thousands of kilometres for renewables most of which are within Al Wusta Governorate, adjacent to the Duqm zone. It is very easy to connect to our Duqm liquid storages and export jetties at the Port of Duqm and Ras Markaz. The fully serviced land near the port with the gas station and the substation made it all possible for future steel and other metal manufacturers to plan for their projects to utilize gas and blue hydrogen and then to shift swiftly to the use of renewables and green hydrogen. Duqm by its comparative advantages and its upgraded master plan provides much of the flexibility needed for such projects of the future".
On his turn, Qais Mohammed Al Yousef, Minister of Commerce, Industry and Investment Promotion said that this forum underscores the importance of Special Economic Zone in Duqm as a comprehensive and attractive zone for major industries. SEZAD, he added, is the largest economic zone in the Middle East and it contains various areas designated for heavy, medium and light industries, among other areas.
Al Yousef pointed out that in line with the Sultanate of Oman's goal to reach net zero emissions by 2050, an area was designated for the production of hydrogen and green industries in SEZAD.
In breaking down the figures, Al Yousef added that a growth of 10.5% was registered in the inflow of direct foreign investments to the Sultanate of Oman, which makes total direct foreign investments reach RO 19.5 billion by the end of 2022. This is driven by growth of businesses in several sectors, namely oil and gas, industry, real estate and tourism, etc.
Moreover, Eng. Salim Nasser Al Aufi, Minister of Energy and Minerals said that the forum is a good chance to draw together the point-views of decision makers, business owners and investors. He added that the forum highlights the features of SEZAD, especially on green industry, renewables and green hydrogen.
He further said that Duqm Refinery will be officially inaugurated next year, which is considered among the major projects in the special zone. The project will eventually attract several projects related to refinery products.
Meanwhile, several investment agreements and memoranda of understanding (MoUs) were signed in the green industries sector, within the framework of Duqm Economic Forum.
The signing of these agreements and memoranda will contribute to enhancing the zone's pioneering role in attracting green industry projects. An agreement was signed between OPAZ and an Omani-Saudi coalition comprising Strabag Oman and Alrosan Company.
The agreement is for the implementation of a dual-carriageway project from Duqm Airport to Ras Markaz (51 Kilometers) to the tune of RO 57.6 million. The project is expected to be completed on the second half of 2025.
Further, another usufruct agreement was signed with HYPORT Duqm. As per this usufruct agreement, a 150 square kilometres land plot in SEZAD will be allocated for the establishment of a green energy plant (250 – 500 megawatts). The energy will be produced through solar power and wind power, to be then transformed to hydrogen derivatives, such as ammonia.
OPAZ also signed an MoU with Shell Oman in the field of localizing a green and blue hydrogen project (undertaken by Shell Oman) and getting rid of carbon emissions.
Moreover, OPAZ signed an MoU with BP Oman to establish a factory for the production of green hydrogen dedicates in SEZAD. BP Oman aims to produce 3.3 gigawatts of electricity and to establish an ammonia factory which produces 150,000 tons of green hydrogen annually.
Further, the authority signed an MoU with the Posco-Engie coalition. As per this MoU, a land plot will be designated in SEZAD for the establishment of a factory of green ammonia and green hydrogen derivatives in the downstream section, with an annual capacity of 1.2 tons.
Furthermore, three agreements were signed in relation to the Vulcan Green project of Jindal Steel. The agreements aim to establish a green steel project in the industrial zone of Duqm Port, with a targeted production capacity of 5 million tons annually of green steel. The project is worth RO 3 billion. – ONA