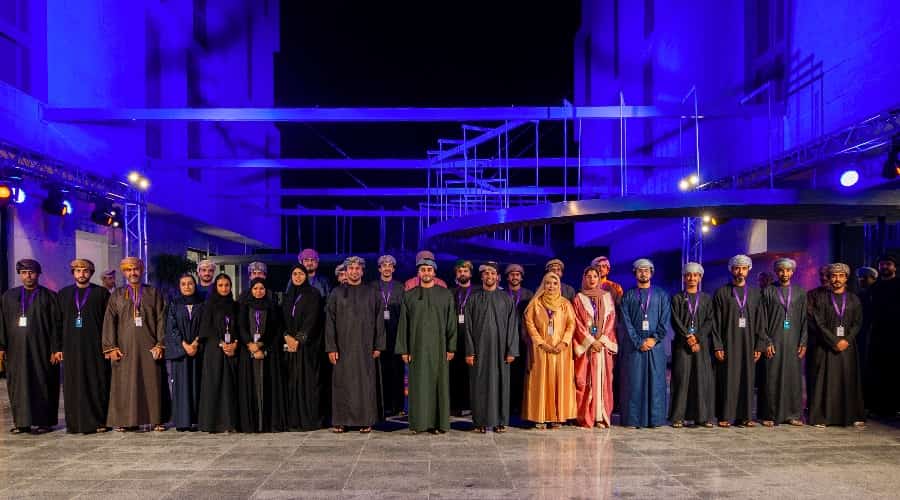 Muscat: HH Sayyid Theyazin bin Haitham Al Said, Minister of Culture, Sports and Youth presided over a ceremony marking Oman Youth Day, the opening of Youth Centre's facilities and the announcement of winners of the Youth Excellence Award 2022.
HH Sayyid Theyazin took note of the facilities of the Youth Centre, which included a section codenamed "Digital Corridor" that narrates the past accomplishments of youth, scopes for joint action among owners of independent occupations and the Creative Industries Incubator.
HH Sayyid Theyazin also went on tour of other facilities, including the library, the veranda, photo studios, multipurpose halls, training halls, the audio studio, the concert hall and the Youth Initiatives Incubator.
Then, HH Sayyid Theyazin inaugurated the logo of the Youth Centre titled "Originality, Roots and Deep-rootedness", which derives its power from utilizing the heritage of ancestors to inspire youth, citing the mystery of construction of Aflaj "ancient irrigation system" as an example.
During the ceremony, eight candidates were announced as winners of the Youth Excellence Award 2022, which was launched in September by the Ministry of Culture, Sports and Youth.
Aisha Suleiman Awlad Thani won first place in the Individuals category, while Outward Bound Oman Foundation claimed the prize set for Civil Society Institutions in the Education category.
Ali Nasser Al Araimi's initiative won first place in the Youth Initiatives category, while Qaf Network Foundation, established by Salem Bashir Al Riyami, won the award set for Youth Organizations Category in the media field.
Manar Abdullah Al Riyami claimed the topmost position in the Environment category, while Steady Steps Foundation, established by Asmaa Mohammad Al Amri, won first place in the category of Youth Organizations in the field of Labour.
Echo of Youth Foundation, established by Qais Salem Al Maqrashi, won first place in among Youth Institutions in the field of Entrepreneurship.
The Complementary Award went to Musa Jaafar Al Lawati in the Individuals category—the media specialization.
The ceremony included a visual display, a drama (sketch) and a video clip showcasing youth aspirations.