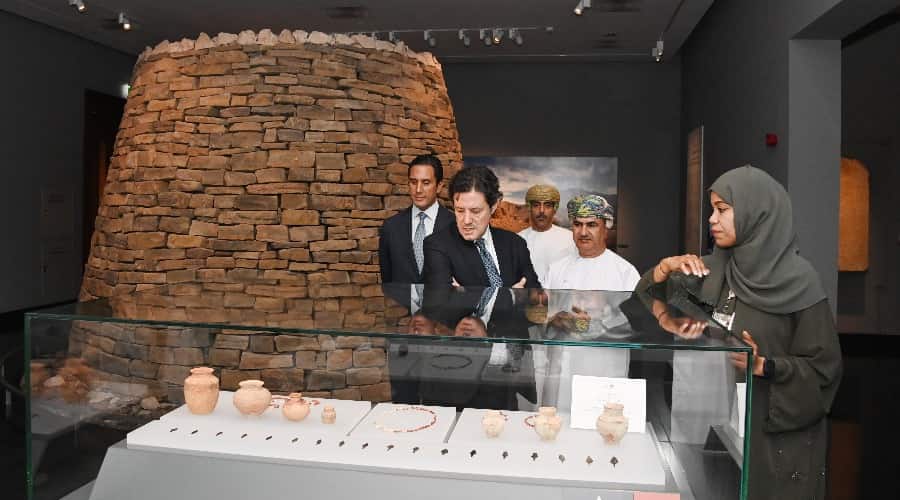 Muscat: Ziad Makary, Minister of Information of the Republic of Lebanon visited the National Museum today. The guest toured various galleries of the  museum during which he was briefed on artefacts and antiques depicting scenes of Oman's authentic life.
The Lebanese Minister also got acquainted with the Corner of Sultan Qaboos bin Said (Dearest and Finest of Men) at the Renaissance Gallery. He also saw some Royal, personal antiques gifted to the late Sultan by some leaders.
The National Museum is the Oman's flagship cultural institution, showcasing Oman's cultural heritage from the earliest evidence of human settlement in the Oman Peninsula through to the present day. The Museum is located in a purpose-designed building in the heart of Muscat.
The total area of the building is 13,700 sq m, including 4,000 square metres for 14 permanent galleries such as The Land and the People, Maritime History, Arms and Armour, Civilisation in the Making, Aflaj, Currency, Land of Frankincense, Prehistory and Ancient History, Splendours of Islam, Oman and the World. Each gallery covers a different aspect of Oman's cultural heritage. A further 400 sqm are allocated for temporary exhibitions.
The Museum houses more than 7,000 objects and offers 33 digital immersive experiences, state-of-the-art conservation facilities, a UHD cinema, and discovery areas for children. It features an integrated infrastructure for special needs and is the first museum in the Middle East to adopt Arabic Braille script for the visually impaired.
It also houses the region's first open-plan museum storage concept, where visitors can learn about the various processes that artefacts go through before they are put on display. – ONA