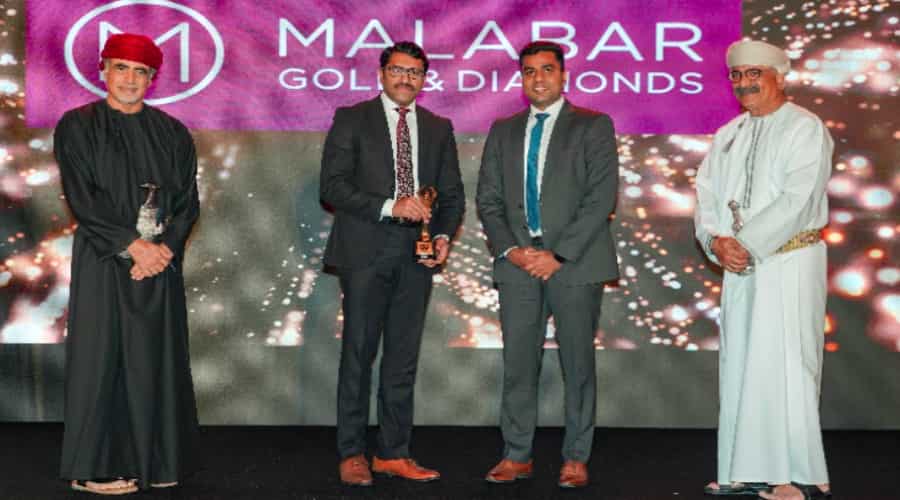 Muscat: Malabar Gold & Diamonds, one among the largest jewellery retailers globally with a strong retail network of over 280 outlets spread across 10 countries, has won 'Oman's Most Trusted Brand' award in the jewellery category for the fifth time in a row. The award was handed over by His Excellency Dr Mohammed bin Hamad al Rumhy, Minister of Energy and Minerals to Mr. Najeeb. K, Regional Head – Oman, Malabar Gold & Diamonds in the presence of Mr. Nicholas Nithin Abraham, Senior Executive – Marketing, Malabar Gold & Diamonds, and Mr. Saleh Zakwani- Executive Chairman, Apex Media.
The award is instituted by Apex Media, one of Oman's premier publishing houses involved in a host of publishing and digital activities. Apex takes fame throughout Oman and internationally for its high-quality title productions involving a team of highly professional journalists and designers. Oman's Most Trusted Brand Awards acknowledges brands that have won the confidence of their customers through a voting process, which is also an opportunity for customers to prove their loyalty towards their favorite brands.
'This award brings us a lot of happiness since it is an affirmation of our customers' trust in the brand and winning it 5 years in a row makes it even more special. We dedicate this inspiring triumph to our millions of satisfied customers, team members and investors, without whose wholehearted support, this exceptional accomplishment would not have been possible", said Mr. Najeeb. K, Regional Head – Oman, Malabar Gold & Diamonds on the occasion.
Malabar Gold & Diamonds has always kept customer-first as the principal attitude in all its steps taken and take efforts at satisfying the discerning needs of its multinational and multicultural customers by incorporating the diverse tastes in the splendid jewellery designs that they showcase. The brand had recently announced its global expansion plans for 2022 in which it will open 22 new showrooms in India and abroad in January, as part of which, 2 new showrooms will be opened in Oman, in Al Khoud Street and Mall of Oman. The Group will invest another USD 107.5 Million for this new phase of expansion this year.
As part of its commitment, Malabar Gold & Diamonds safeguards the purchases of customers through a set of policies named 'Malabar Promise':
Complete Transparency – Totally transparent and detailed invoice and price tag.
Tested and Certified Diamonds – Every diamond passes through 28 internal quality tests and is also certified by international labs
Guaranteed Buyback – Best buyback value for gold and diamond jewellery
Zero deduction gold exchange – Full value, without any deductions on exchange of 22KT gold
916 Hallmarked pure gold – All jewellery hold 916 hallmark certification, a guarantee of purity
Assured Lifetime Maintenance – at over 250 stores across 10 countries
Responsibly sourced – Sourced in a responsible manner to protect the environment and stakeholders, for the jewellery to be truly auspicious
Fair labor practices – Fair wages, benefits and working conditions for karigars
Fair price policy – Reasonable making charges for all jewellery which assures best value for purchase
The Malabar Group commits a fixed percentage of its profit to support socially responsible purposes both in India and abroad, since its inception in 1993. Education, health, women empowerment, affordable housing and environmental protection are the focus areas for the Group.