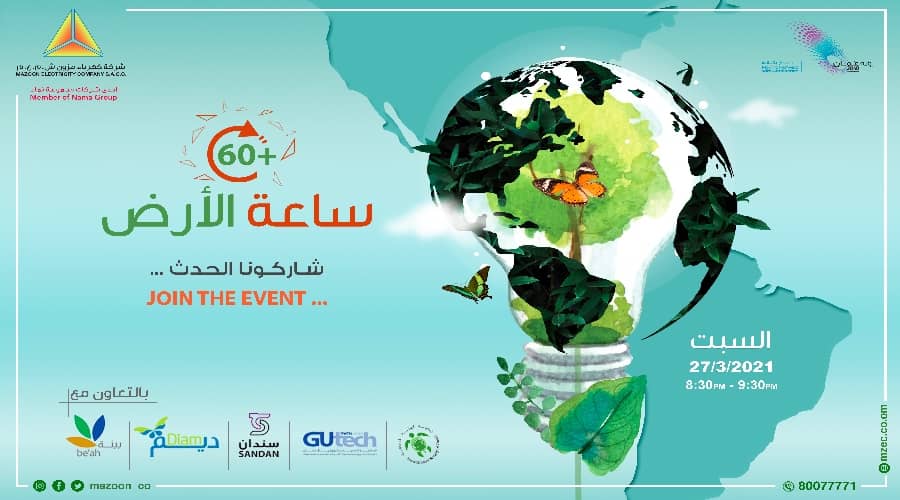 Muscat: Mazoon Electricity Company, the leading electricity provider in Oman, will join the rest of the world to celebrate the Earth Hour.
On Saturday 27 March 2021 at 8:30pm, Mazoon Electricity and its employees will participate by switching off the lights of its business premises and homes for one hour.
The Earth Hour 2021 theme focuses on "Climate Change to Save Earth". It aims to remind everyone that climate change is real, and it is affecting people in one way or another and that the world should unite and fight it. The event encourages individuals, communities, households, and businesses to turn off their non-essential lights for one hour as a statement to stop climate change and protect the global environment.
As a run up to the event, Mazoon Electricity has launched an Earth Hour 2021 campaign. Shabiba FM, be'ah, Diam, Sandan, GuTECH, Environment Society of Oman have joined the campaign as partners.
Said Juma Al Busaidi, Manager Communication & Sustainability at Mazoon Electricity said, "Our partners are joining us in sharing of relevant content on all social media platforms, participating in a special video, taking part in a radio interview to be conducted on 27/3/2021 on Shabiba FM and participating live via social media accounts to join the customers in earth hour activities."
The spokesperson added, "Sustainability is a long-standing priority for Mazoon Electricity, and we are committed to making a greater contribution to the long-term environmental goals of the country. We have been commemorating Earth Hour for the last many years, and over the years have been able to encourage many people to switch off their non-essential lights and appliances for an hour between 20:30hrs and 21:30hrs. This year too, we ask them to commemorate this global initiative. Let us all put nature at the centre of their recovery efforts to future proof the economy and the society at large."