The Muscat Electricity Distribution Company (MEDC) issues an alert to its subscribers and in the interest of their safety and the safety of their families, has alerted all its subscribers to the precautions to be taken when using the electric heater.
The MEDC stressed the need to switch off the power button before using the water to avoid the occurrence of any  electrical contact, and to be careful by follow the proper steps before using it.
One of the most common risks caused by the electric heater is the electrical short circuit and the failure to connect the device to the electrical grounding, which is important to protect against electrocution in cases of electricity leakage in the heater, which may lead to death in some cases, and sometimes may also occurs due to improper installation that is not noticed by the user Therefore, care must be taken to ensure the safety of the electrical connections of the heater, as well as to switch off the heater before using the water, with the need to educate all family members about that.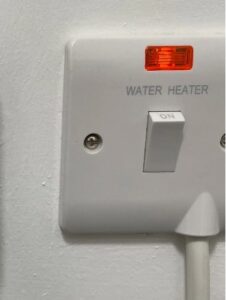 The company also warned of the need to regularly check the heater, especially the thermostat, and the internal cleaning of the heater, where water in the tank for a long time leads to the formation of rust and the deposition of salts, which leads to corrosion of the external body, and thus damage to the heater. In these cases, the company recommends replacing the heater and checking the grounding. Electricity for real estate with the help of a licensed electrician to protect individuals from the danger of electric shock resulting from the failure of the insulation or its breakdown.