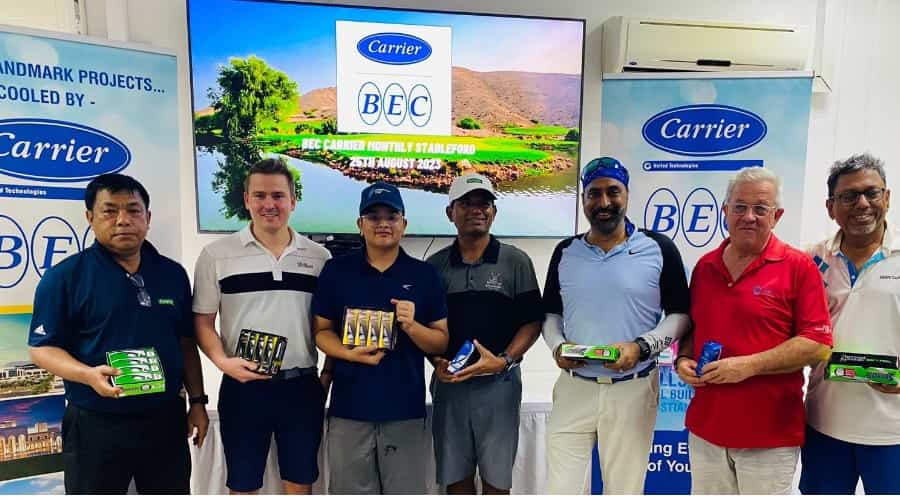 September: Regarded as an exemplary golf destination in the Sultanate, the picturesque Ras Al Hamra Golf Club welcomed golf enthusiasts once again to its friendly fairways and rolling greens for the BEC Carrier Stableford event on Friday, 25 August 2023. The occasion saw the participation of 37 players which included both Ras Al Hamra Golf Club members and guests. Commencing with a synchronized 'shotgun start', the golfers swung their irons to engage in a dynamic display of remarkable skill and competitive spirit.
Organised as a monthly competition sponsored by BEC Carrier, the event holds special significance within the golfing fraternity. It offers an opportunity for golfers with varying skill levels to unite and showcase their talent in an engaging and amicable environment. Featuring three distinct handicap divisions, the competition is thoughtfully structured to establish a balanced and equitable arena, ensuring an impartial stage for participants with diverse levels of expertise.
Exhibiting a stellar performance on the course, Rajesh Malhotra not only secured the Division 3 title but also clinched the prestigious BEC Carrier Crown with an impressive score of 39 points. Though Krish Pawani presented a formidable competition, Malhotra's remarkable prowess during the countback phase cemented his triumph, granting him the ultimate recognition as the golfer who achieved the highest Stableford score across all three divisions. Krish Pawani showcased his skills in Division 1, emerging as the winner of that category, while James Shaw's score of 37 points secured his victory in Division 2. The exceptional display of skills underscores the intense level of competition consistently nurtured by the BEC Carrier golf events at Ras Al Hamra.
Designed by Graham Marsh Golf Design, Ras Al Hamra features an 18-hole floodlit golf course with a dedicated practice area. Positioned to overlook the Gulf of Oman, this desert-style, semi-private facility is lined with trees, native shrubs, and plants that blend seamlessly into the adjoining landscape. Originally established as a sand course in 1969, it has evolved into a lush grass course with strategic tees, double greens, and alternative locations. Boasting a par 71 layout spanning 5,400 to 6,500 yards, it provides an unparalleled golfing experience.
Moreover, Ras Al Hamra takes pride in its Golf Academy, offering an array of coaching options overseen by seasoned PGA-qualified instructors. This facet further amplifies the comprehensive experience, exemplifying the club's commitment to fostering skill and amusement for all golf aficionados.
With a premium location, top-tier amenities, and ongoing tournaments, Ras Al Hamra plays an active role in solidifying the Sultanate's position as a leading regional destination for the sport.