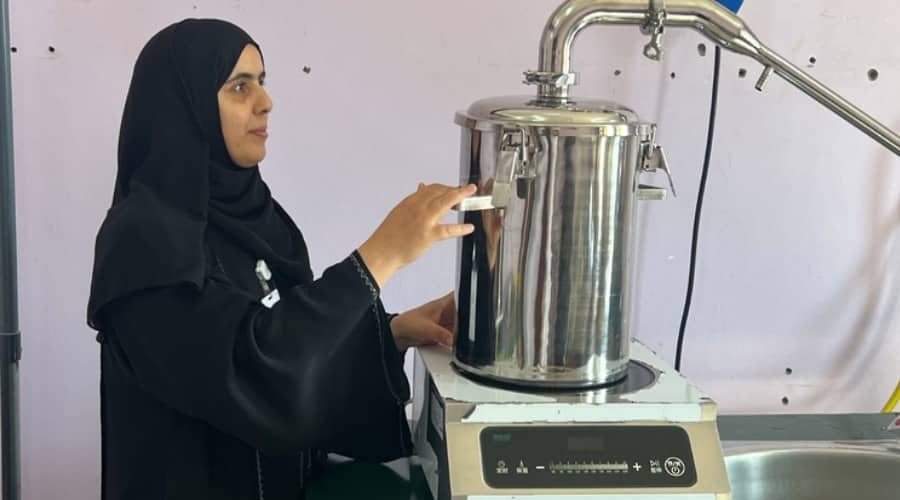 Al Jabal Al Akhdar:  The production of perfumes and essential oils at the Business and Incubators Center of the Authority for Small and Medium Enterprises Development (ASMED) in Wilayat of Al Jabal Al Akhdar in Governorate of A'Dakhiliyah, from its opening until the end of the first half of 2023, amounted to about 60 thousand bottles of distilled white rose water, spray and frankincense, locally known as (Luban) water spray.
Al Azhar Saif Al Zakwani, a technician at the ASMED Business and Incubators Center in Al Jabal Al Akhdar, said: "The processes of manufacturing aromatics go through several stages, starting with harvesting products and placing them in the distillation device, then the process of condensing the aromatic substance begins, after which the distilled water is left. The distilled product will be cooled for one day, and on the next day, it is bottled and marketed."
He explained that there is a study to open new production lines for other products, including Myrtus communis water, locally known as "Yas", Coleus amboinicus water, locally known as "Zamuta", Tapiscia water, locally known as "Alalan", clove and cinnamon water, among others.
He added, "The center includes a number of departments, including a training hall for distilling aromatic plants and extracting essential oils, a training department for entrepreneurs and craftsmen, and the Omani Craftsmen House to display the center's and craftsmen's products (oils, perfumes, textiles, pottery, silver, etc.), in addition to housing 2,700 rose trees of various varieties."
He pointed out that aromatic plants, such as roses and frankincense are distilled in the center. He further said that the profession of distilling aromatic plants is one of the developed craft industries that benefit environmentally from nature's plants. He added that ASMED is keen to improve its mechanisms and various production processes that depend on seasonal crops, such as roses, including permanent distillation of frankincense oil and water.
He affirmed that the profession of distillation is a source of income for many craftsmen. Al Zakwani said that products of the ASMED Business and Incubators Center are sold in many local and foreign markets as popular local products, in addition to presenting them as souvenirs. – ONA