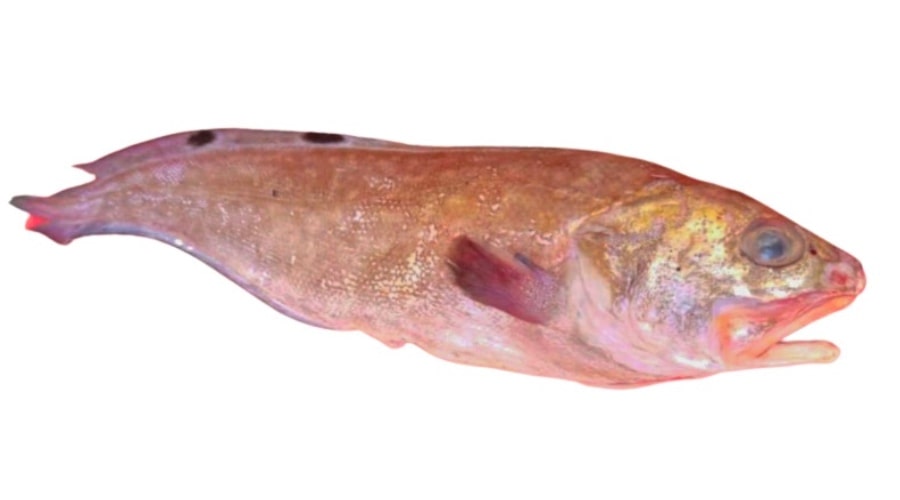 The Marine and Fisheries Sciences Center at the Ministry of Agricultural and Fisheries Wealth and Water Resources announced the documentation of a new type of fish in Omani waters, eel, which was caught in the Kumzar area of ​​the Musandam Governorate, as part of the surveys carried out by the center in cooperation with artisanal fishermen in various coastal governorates.
The center pointed out that this type of eel family Ophidiidae is a group of marine bony fish that fall under the order Ophidiiformes.
Its scientific name came from the Greek word Ophis, which means snake, and refers to its snake-like appearance, and this family includes approximately 240 species, grouped in 50 genera of fish, and there are about 8 species of fish belonging to the Ophidiidae family that were previously recorded in the waters of the Sultanate (Atlas). The field fish of the Omani coasts, 2018), and in addition to these species, another species of this fish was recently reported for the first time in Omani waters, which is Spottobrotula persica.
The center described Spottobrotula persica as a ray-finned fish that belongs to the order of sea snakes known as Cusk eel of the genus Spottobrotula, which includes two other species, namely, Sp. Mossambica/ and/Sp. Mahodadi/.
The fish was caught in the Kumzar area of ​​the Musandam Governorate in the Arabian Gulf by threads at a depth of 116 meters. This scientific recording and documentation is a great addition to the balance of biodiversity in the seas of the Sultanate.
Members of the eel family live in temperate and tropical oceans all over the world, where they live near the sea floor from shallow waters to the deep Hadal zone.
These species are distributed between the Arabian Gulf and the Mozambique Channel, and in the Andaman Sea. Spottobrotula persica was identified from three specimens from the Persian Gulf trawled at a height of 45 m, and from one specimen caught off Socotra Island at a depth of 480-515 m.
This type of fish differs from the other two types of Spottobrotula by the large white dorsal spots on the body and head area, with a distinct brown lateral line, in addition to the presence of three black eye areas known as ocelli on the dorsal fin area, where the first is located at the beginning of the fin, The second spot is in the middle and the third, which is smaller, is at the end of the fin. The pelvic fins are located directly below the end of the upper jaw, and the latter ends behind the eye. This type is also distinguished by the presence of a strong thorn protruding on the hood.