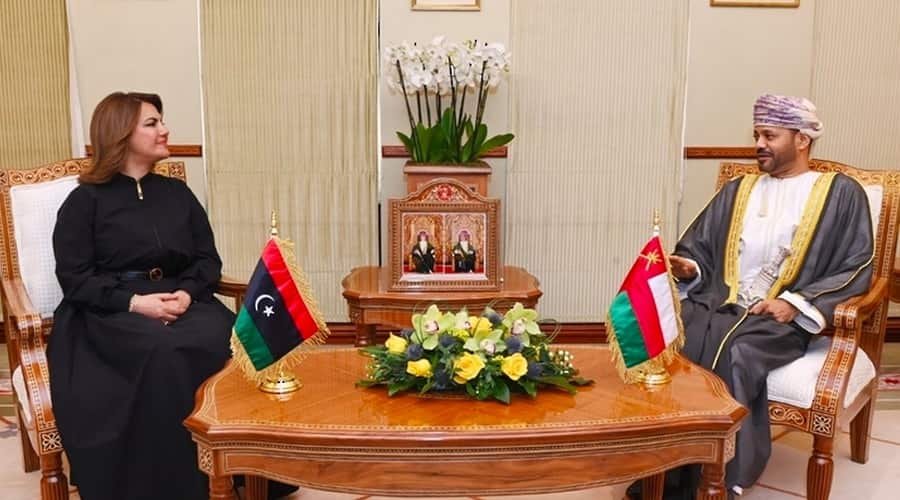 Muscat: Sayyid Badr Hamad Al Busaidi, Foreign Minister, today held a session of political talks with Dr. Najla Mohammed El Mangoush, Minister of Foreign Affairs and International Collaboration of Libya, who is on an official visit to the Sultanate of Oman.
During the meeting, the two sides affirmed their keenness to cement ties between the two countries and two peoples. They discussed aspects of bilateral cooperation in political, economic and cultural fields, in addition to ways of maximizing mutual benefits for both countries.
About developments in the Libyan arena, the Libyan Minister spoke about the efforts made to achieve internal political consensus and enhance the role undertaken by the representative of the United Nations Secretary-General.
Sayyid Badr reiterated Oman's firm support for those efforts and endeavors between Libyan parties to preserve the unity and sovereignty of the State of Libya, with the help of the United Nations, Arab and friendly countries to achieve Libya's supreme interests in a manner that consolidates the pillars of security and stability and promotes the country's comprehensive development programmes.
The two sides also exchanged views on developments related to current regional and international issues of common concern. They stressed the significance of endorsing means of dialogue and devising peaceful and diplomatic solutions to address issues and crises—towards establishing security, stability and prosperity for all countries and peoples.
The meeting was attended by Khalid Hashel Al Muselhi, Head of the Minister's Office Department, officials of the Foreign Ministry, the Chargé d'Affaires of the Libyan Embassy in Oman and the delegation accompanying the Libyan Minister. -ONA