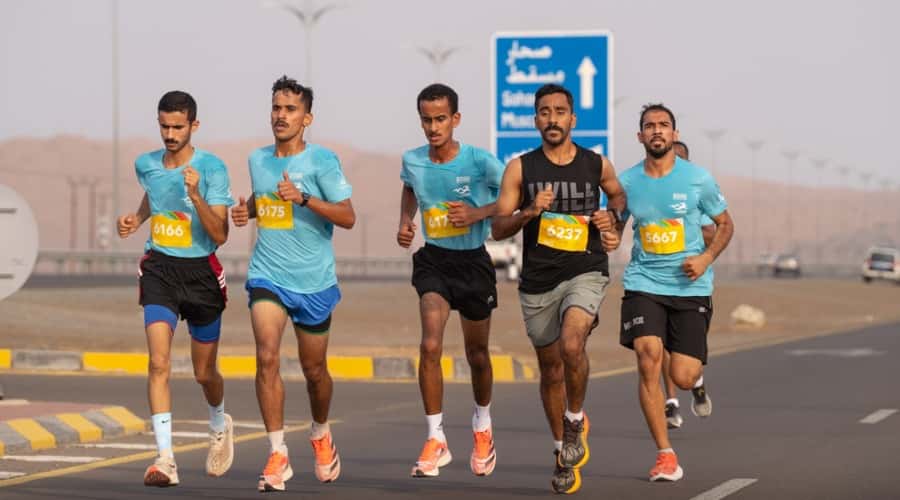 Al Buraimi: The Oman Governorate Broadband Marathon competitions kicked off today in Al Buraimi Governorate in its sixth stop, organized by the Ministry of Culture, Sports and Youth in partnership with the Omani Athletics Federation and SAPCO Sports Company.
The marathon activities were sponsored by His Excellency Dr. Hamad bin Ahmed Al Busaidi, Governor of Al Buraimi. The marathon included three age levels: the children's race for the age group of 7-12 years, with a distance of 2 kilometers allocated to the contestants, the second race for a distance of 6 kilometers for the age group of 13 and above, and the third race, which was allocated 10 kilometers for the age group of 18 years and above. With the participation of approximately 1,400 male and female contestants from inside and outside the Sultanate of Oman.
The marathon was accompanied by entertainment and promotional activities for the public, marketing corners for medium and small enterprises to display their products, in addition to the participation of popular arts groups in the governorate.
It is worth noting that the Oman Broadband Governorates Marathon targets 10 governorates, namely (Al Dakhiliyah, North Al Sharqiyah, North Al Batinah, Dhofar, South Al Batinah, Al Buraimi, Al Dhahirah, South Al Sharqiyah, Al Wusta, and Musandam), with the first stop being in the Wilayat of Nizwa in Al Dakhiliyah Governorate on the third of Last February.