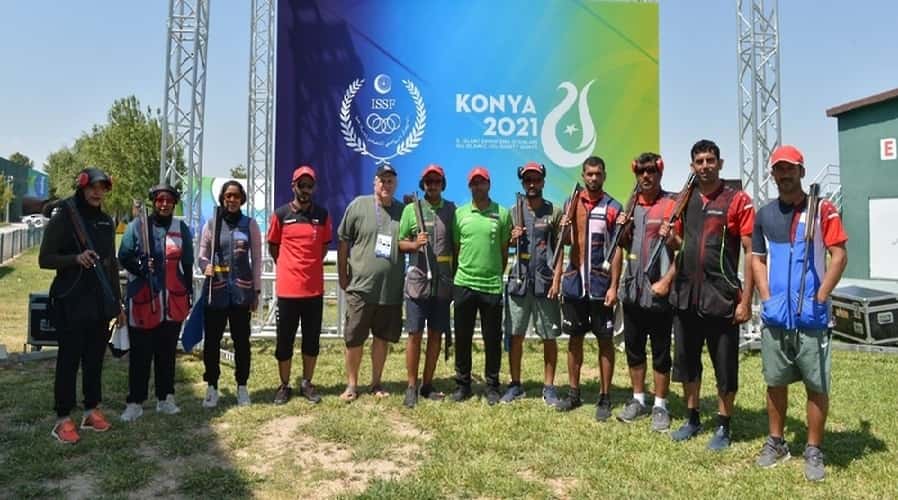 Konya:  The Sultanate of Oman continues its participation in the fifth edition of the Islamic Solidarity Games, which will be held in the Turkish city of Konya and will continue until August 18, with a delegation of 30 male and female players competing in (5) different sports.
Five Omani teams will participate in the tournament, which are the Oman Athletics Association, the Oman Cycling Federation, the Oman Swimming Federation, the Oman Shooting Federation, and the Oman Weightlifting Committee.
The course includes (24) competitions, namely: tri-basketball, aerobic gymnastics, artistic gymnastics, rhythmic gymnastics, athletics, football, table tennis, shooting, bicycles, track bikes, wrestling, fencing, weightlifting, judo, karate, Swimming, taekwondo, handball, kickboxing, bocce, traditional Turkish archery, volleyball, and archery.
The players of Oman national team for (skeet shooting) gave positive results despite not qualifying for the final in the preliminary qualifiers of the competition, and the shooters achieved good numbers compared to the strength of the competition and the presence of an elite of international shooters in the competition.
In the dirt competitions (men), Rami Hussein Al-Shahoumi ranked 16th with 116 bowls out of 125, while Rami Abdullah Al-Mandhari won 22nd place with 113 bowls out of 125, while Rami Salim Al-Nasiri ranked 23rd with 112 bowls out of 125.
In the dirt competitions (womens), Reem Al-Hosanieh ranked 11th with 111 bowls out of 125, while Fakhriya Al-Jahafieh ranked 13th with 107 dishes out of 125.
Tomorrow, the tarp team will compete in the joint competitions for men and girls, where our national shooting team will represent archer Hussein Al-Shahoumi and archer Reem Al-Hosani. The archery competition will continue in the tournament until August 16, with the participation of 117 shooters representing 21 countries.