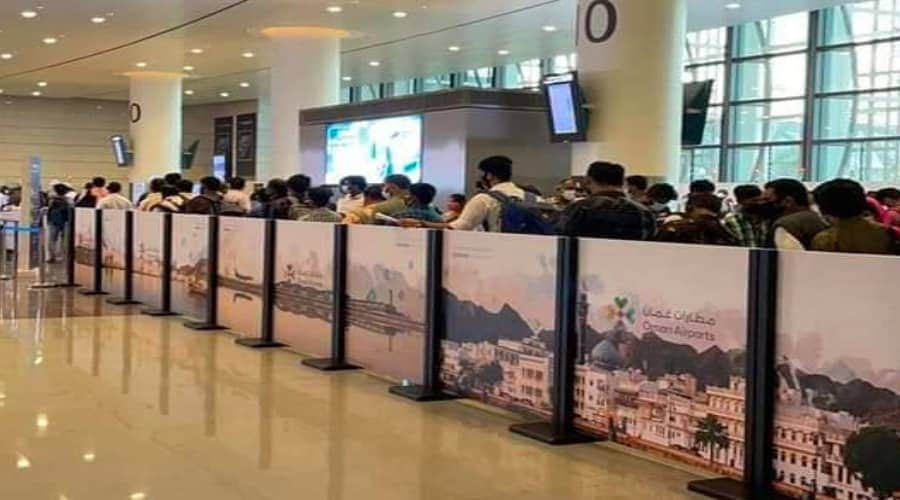 Muscat: Oman entry ban: Official clarifies the entry of 13 flights on 24 April
In a statement Oman news agency: Hammoud bin Muhammad al-Mandhari, the Relief and Shelter Sector Coordinator, said in a statement to the Oman News Agency that the incoming flights to the Sultanate through Muscat International Airport are pre-scheduled flights, pointed out that the airport receives in the usual mode approximately 80 flights movements incoming and outgoing flights
Regarding what was circulated on social media on April 24, about the arrival of 13 flights coming to Muscat International Airport, the Relief and Shelter Sector Coordinator explained that the number that entered the Sultanate on that date reached 4,926 passengers.
They were dealt with the same procedures that were specified by the Supreme Committee in terms of procedures for examination of polymerase, wristbands and institutional sanitary isolation, and the numbers of travelers were monitored in daily reports confirming their whereabouts in the isolation sites.
The Relief and Shelter Sector Coordinator refers to some violations of institutional isolation, whether from individuals, such as failure to comply with isolation and exit from centers or removing the bracelet or from isolation institutions, and represented in non-compliance with health requirements and procedures
He explained that the individual violators or places of isolation were dealt with in accordance with legal procedures by the Relief and Shelter Sector in coordination with the Royal Oman Police and the Ministry of Heritage and Tourism.