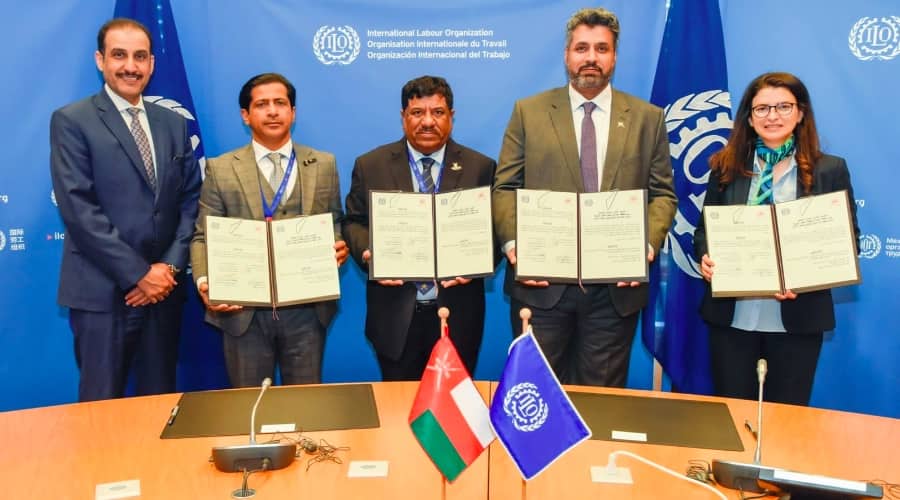 Geneva: The International Labour Organization (ILO) and the Sultanate of Oman signed a second extension of an existing Memorandum of Understanding (MoU) to jointly develop Decent Work Country Programmes (DWCPs) to advance decent work in the Sultanate. 
The extension of the MoU, which was originally signed into force in 2017, took place on the sidelines of the 110th International Labour Conference in Geneva, and will pave the way for developing a DWCP for the period 2023-2025.
The new DWCP will see the ILO continuing to work closely with the tripartite partners in Oman to bolster the national employment agenda and enhance access to decent work opportunities in the Sultanate. It will build on joint successes achieved during previous Oman DWCPs since the Sultanate's first such programme began in 2010
"The Sultanate of Oman has demonstrated its deep commitment to decent work since it became an ILO member state almost three decades ago," said ILO Regional Director for Arab States Ruba Jaradat. "We look forward to working with the country's government, worker and employer representatives to develop a new Decent Work Country Programme that will prioritize employment creation, skills and entrepreneurship development, social protection, and international labour standards and labour governance," Jaradat continue. 
The MoU was signed by Oman's Minister of Labour Mahad Said Ali Baawain, ILO Regional Director for Arab States Ruba Jaradat, the Chairman of the General Federation of Oman Workers Nabhan Ahmed Al-Battashi, and the Chairman of the Board of Directors of the Oman Chamber of Commerce and Industry Redha Juma Al Saleh.