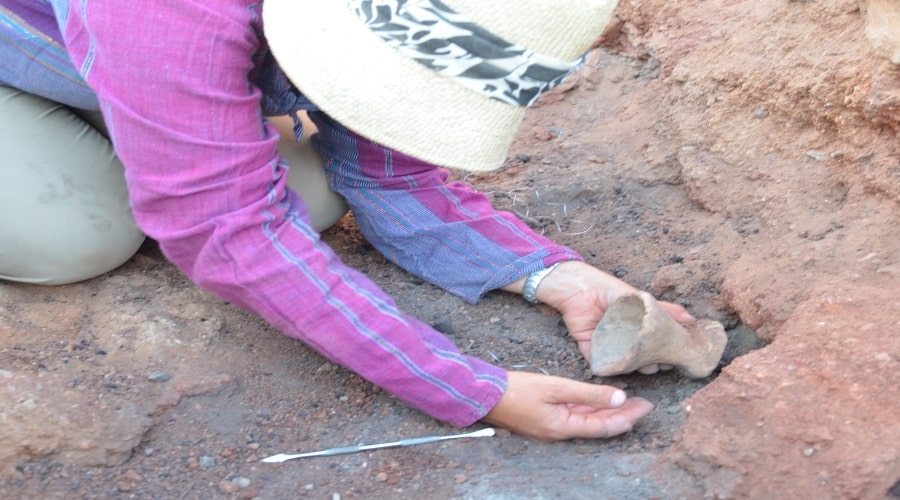 Muscat (ONA): The Archeology Department at the College of Arts and Social Sciences at Sultan Qaboos University (SQU), in cooperation with the Ministry of Heritage and Tourism, has discovered the most ancient Omani incense burner made of pottery dating back more than 4,500 years in the Wadi As-Sakhn area near the village of Dahwa, located about 24 km west of Saham.
The antique was unearthed at the village of Dahwa, 24km west of Saham, North Al Batinah after eight years of excavation that led to the discovery of many relics, among them forts, aflaj "ancient irrigation system," cemeteries, mines and human settlements dating backing to thousands of years and spanning different epochs from the Stone Age to the late Islamic Era.
The archaeology team had been embarked on studying the areas of Wadi As'Sakhn with a missing to explore human activity during the early Bronze Age, notably the culture of Um An-Nar Era dated 2700-2000 BC (an intermediary between Mesopotamia and Indus Valley cultures).
The team set out in its excavation mission in 2014 under the supervision of Prof. Nassir Al Jahwari and Dr. Khalid Daglas and other SQU professors.
The site comprised a large number of enclaves that housed ancient human settlements along the banks of the valley. The enclaves included huge buildings, the most notable of which was the 10thmonumnet in Dahwa (marked by researchers as DH1:S.10), where the team found seven multipurpose chambers, among them rooms for storage of imported goods, a copper smelter an a residence.
Carbon-14 dating showed that the Sahoy incense burner (dated 2300-2200 BC) was the most ancient antique of its kind discovered so far. The analysis took place at the laboratory of Georgia University, United States. Specimens of the incense burner were cross-checked at Mx Blank Institute, Germany, where traces of plant oils were found in the interior of the burner.
In 1996, a similar incense burner was unearthed at Ras Al Jiniz, dating back to 2200 BC. This burner, made of white limestone, had traces of incense. It was the mot ancient evidence that Omanis used frankincense for centuries in everyday activites.