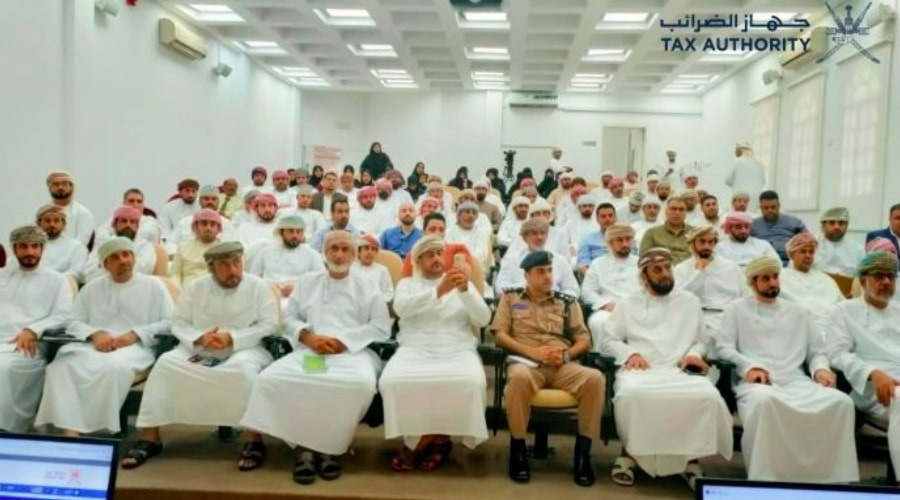 Muscat: The Tax Authority held an awareness seminar on income and value added taxes in Al Buraimi Governorate, in cooperation with the Oman Chamber of Commerce and Industry branch in the governorate. Registration for tax or non-compliance with tax.
Mr. Youssef Al-Sarmi presented a paper on the mechanism of value-added tax, the types of supplies, tax rates, and exempted supplies, as well as practical examples of the reverse-charge mechanism and the tax due date. He explained that the tax law stipulates penalties aimed at reducing tax non-compliance with all taxpayers, and these penalties range from imprisonment for a period of one to three years and a fine ranging from 10,000 to 20,000 Omani riyals for cases included in the law, including intentionally refraining from registering in the value tax. Added or failing to file returns for tax periods or providing incorrect data in tax transactions in addition to other cases.
For his part, Mr. Ahmed Al-Badi, Director of the Tax Department in North Al Batinah Governorate, presented a working paper on corporate income tax, in which he touched on the general concepts of tax and the method of submitting annual returns in the correct manner via the electronic services portal. Al-Badi pointed out the importance of proper tax compliance by taxpayers so as not to impose fines and administrative measures against them in the event of non-compliance. On how to register with the tax authority, Al-Badi explained that registration is done through the tax authority's services portal www.taxoman.gov.om, log in by electronic certification, fill out the forms prepared for this, verify the validity of the data and submit the application for registration.
The symposium had a large presence and wide participation from the taxpayers in the conference room of the Chamber branch, and a wide interaction by asking many questions to the specialists from the tax authority, who in turn provided all the necessary clarifications about the tax.
It is worth mentioning that the Tax Authority started a series of awareness seminars on corporate income and value added taxes this year, coinciding with the opening of several tax departments in the governorates of the Sultanate of Oman to spread tax awareness in all governorates.