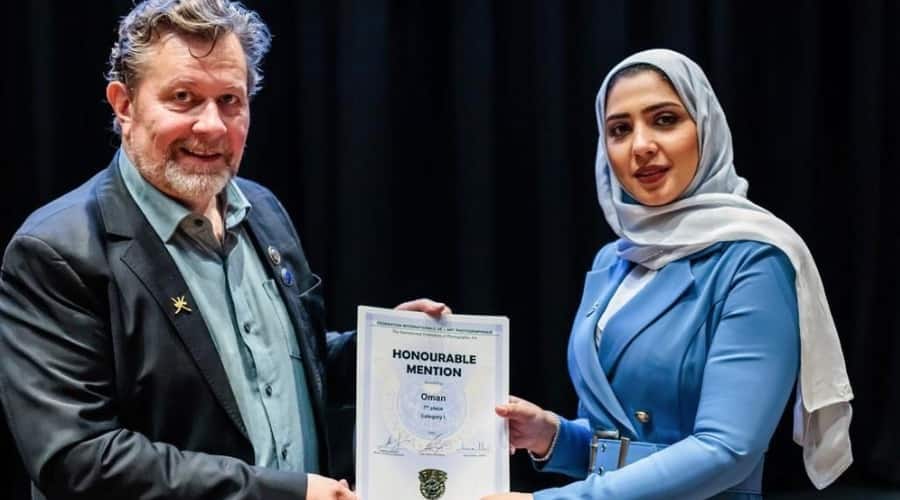 Oslo: Omani photographer Nouf bint Salem Al Siyibi won the gold medal for her artistic work titled "Mystery" at the individual level  of the under-21 category in the International Youth Biennale of Photography "FIAB" competition.
During the ceremony honoring the winners of the International Youth Biennale Photography Competition in its 41st session for the year 2023, held in the Kingdom of Norway, the Sultanate of Oman was represented by the Ministry of Culture, Sports and Youth, the Sultanate of Oman also received two honorary awards at the level of participating country level as it won sixth place after achieving 324 points in the U-21 category, and seventh place in the U-16 category after achieving 353 points.
This win comes from the keenness of the Ministry of Culture, Sports and Youth to support Omani photographers and encourage them to highlight their artistic energies and creativity through many different artistic programs and activities, including participation in competitions.
Photographer Nouf Al-Siyibi, winner of the gold medal at the individual level, said: "This achievement is an incentive and motivation for me to continue working and diligently in the field of photography, adding that this is not her first participation in the Youth Biennial, as she participated in the last session, and was one of those who contributed to the Sultanate of Oman obtaining the first place award.
The Youth Photography Biennale is one of the most important competitions in which the Ministry participates to achieve the goals of Oman's cultural strategy through the axis of creativity and cultural development to nurture talented people in the cultural field and the axis of cultural identity to spread awareness and knowledge of the Omani cultural identity locally and abroad.