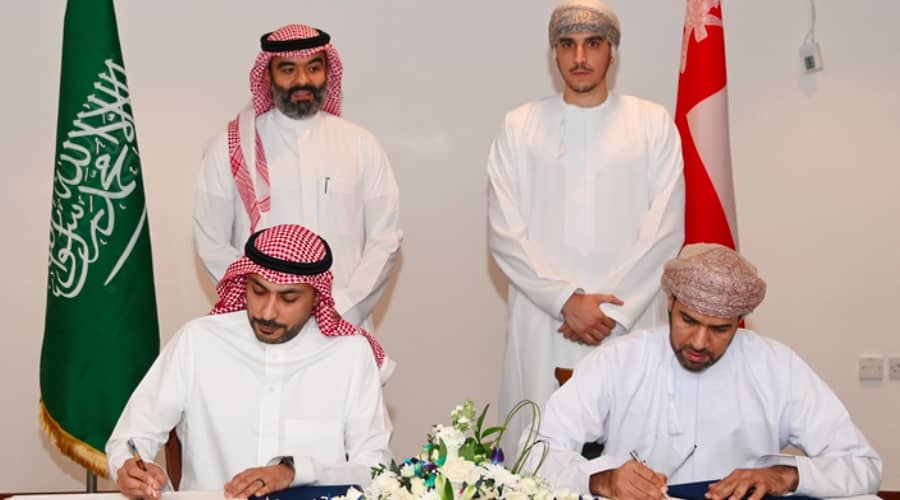 Muscat: Several agreements and memoranda of understanding (MoU) were signed today at the headquarters of the "Ethkaa Group" in the Knowledge Oasis – Muscat between Omani and Saudi companies to invest in the telecommunications and information technology sector within the framework of the visit of the Saudi delegation headed by His Excellency Eng. Abdullah bin Amer Al-Sawaha, Minister of Communications and Information Technology. And in the presence of His Highness, Mr. Kamel bin Fahd Al Said, Chairman of the Board of Directors of Ithqaa Group.
The first agreement came between the Ithqaa Group and the Saudi Thiqa Company, to enhance cooperation between the Sultanate of Oman and the Kingdom of Saudi Arabia in the field of implementing the product conformity, standardization and legal calibration system. Ayman bin Abdullah Al-Falaj, CEO of the company.
A memorandum of understanding was also signed between Thiqa and Rahal, with the aim of cooperating between the parties to develop and implement joint works among them in the field of electronic services and information technology, in order to invest the added values ​​of each party in order to achieve the general interests of the target parties.
The memorandum was signed by Ayman bin Abdullah Al-Falaj, CEO of "Thiqa" company, and Azzan bin Qais Al Kindi, CEO of "Rahal".
A memorandum of understanding was signed between the Omani company "Tamm Dunn" and the Saudi company "Jahez" to study and evaluate ways of cooperation in the areas of delivery services. The memorandum was signed by Ghasab bin Salman Al-Mandeel, CEO of Jahez Company, and Yasser bin Saeed Al-Barami, CEO of Tam Dunn Company.
Eng. Saeed bin Abdullah Al-Mantheri, CEO of Ithmaa Group, said that this joint cooperation with the brothers in the Kingdom of Saudi Arabia comes with the aim of expanding in one of the largest regional markets in growth during the current period in the communications and information technology system, pointing to the importance of expanding in the field of cloud technology solutions, enhancing Gulf cooperation and exchanging experiences and expertise.
For his part, Ayman bin Abdullah Al-Falaj, CEO of Thiqa Company, explained that this cooperation is a unique opportunity for the company to expand at the level of the Arabian Gulf as a starting point that paves the way for technical linkage at the international level, with the support of the Saudi Standards, Metrology and Quality Organization and the Ministry of Commerce, Industry and Investment Promotion.
Al-Falaj stressed that the desire of the two parties for joint cooperation has boosted the move towards work in the field of product conformity to reach conformity assessment bodies around the world, with the aim of raising the level of safe products, reducing time and speeding up procedures for clearing products from the Sultanate of Oman to cooperation with the GCC countries. Cooperation for the Arab Gulf states with the aim of achieving electronic integration and consolidating permanent Gulf cooperation in the growth of digital business services.