Omani student Sarah Al-Balushi was honoured by Prime Minister of New Zealand
The Omani student Sarah bint Abdulaziz Al-Balushi, was honored by the Prime Minister of New Zealand as a great advocate and activist in the issues of climate change, and that she spent nearly a year working with a group in a public exhibition of the Otago Museum, reports Otago Daily Times
The newspaper stated that Sarah's project reviews the inequalities in climate change and the extent of its impact on different people, it added that Sarah spends a lot of her time exploring her interest in the natural world and regards climate change as one of her most beloved issues and last year she was selected as the co-winner of the Kavanagh College Cup for Public Speaking.
Her determination and persistence led her to win the Zonta Woman of Science Award for Best Woman in Science and Mathematics.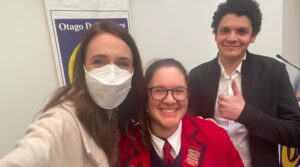 The Otago Daily Times also mentioned that Sarah Al-Balushi has many achievements, including: The Zonta woman in science prize (2021); Farry Cup joint winner (2021); Dunedin Riding Centre volunteer (2021-2022); deputy head girl (2022); Dunedin Astronomical Society committee member (2021-2022); University of Otago young woman in leadership programme (2021); first in class physics, biology, chemistry (2021); Level 1 and 2 excellence (2020, 2021).
The newspaper pointed out that Sarah's family is interested in the environment, horses and animal husbandry, and it is worth noting that Sarah has an Omani father and a New Zealand mother, and the news of the honoring of the Prime Minister of New Zealand received an interaction on social media in the Sultanate of Oman.