Al-Shafak Theatrical Troupe won the best integrated show, best script, best direction and acting awards at the 15th Tangier International University Theater Festival, held in Tangiers, Kingdom of Morocco.
Al-Salt Al-Siyabi, who won the best director award, to talk about the band's participation in the festival and the awards it received. And the nomination for the scenography and the best show, noting that this festival attracts most countries of the world, including European, East Asian, African and American countries.
Siyabi said: This show was shown twice, the first was at the Casa International Theater Festival, and we won the best actor in equal parts for Walid Al-Maghizoi and Ibrahim Al-Ma'ashari, and the second performance of the play "Rogue Finger" at this festival and we won the best actor equally between Ibrahim Al-Ma'asheri and Walid Al-Maghizoi, and we won We won the award for the best text by Professor Abbas Al-Haik Al-Saudi for the text (Rogue Finger), in addition to receiving the best director in equal parts for Al-Siyabi Salt. We also received a special jury award for the best integrated show, and we were nominated for the Best Scenography award (decoration, lighting, sound, accessories).
Al-Siyabi explained that it falls under the poor schools that do not have a large decor, nor does it require difficult clothes to implement, so we can show the show even in the street, and the play is represented by only several actors Characters, including the character of the mother, father, children and also the small character from childhood until she grows up, these characters are embodied by two actors only, and in return we tried to use modern techniques in directing and coding the simple things in life for contemporary social and important issues for the street locally and globally.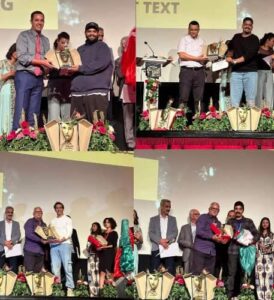 As for the band's nomination for the Scenography Award, Al-Siyabi said: We were nominated for the Best Scenography Award because we made use of all the elements of the scenography such as (decoration, lighting, sound, accessories), as we made use of every piece of decor, such as costumes, etc., and every spot of lighting in the theater completely and 100% correctly. In addition, we used decoration and fashion pieces for many different things, for example; The mother's headdress We have used it in many different ways as a head covering and a body covering to mark some indirect objects in the display.
Al-Salt Al-Siyabi concluded his speech by thanking the management of the Tangier International Festival for hosting and all the motivators, brothers, family and friends who were always supportive everywhere and in the forum, stressing: The Omani theater is fine and we have hardworking youth and this achievement will be the beginning of a brilliant future in All international forums.