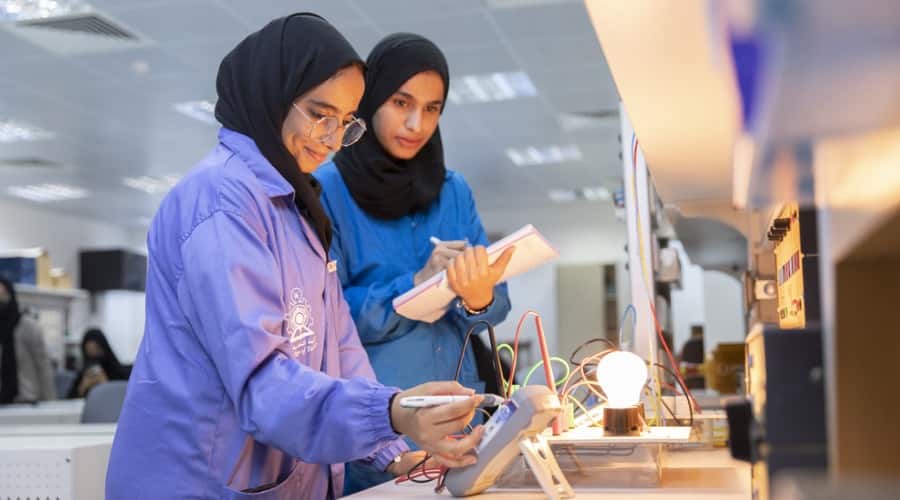 Muscat: The Sultanate of Oman will mark this Tuesday the Omani Women's Day, which falls on the 17th of October every year.
The event comes in recognition for her contributions to the march of renaissance and comprehensive development in the Sultanate of Oman, as well as her roles in various social, cultural, economic and sports fields.
The celebration of Omani Women's Day embodies the emphasis of His Majesty Sultan Haitham bin Tarik on the importance of women's participation in shaping the country's present and future, as they are an essential partner in sustainable development and nation-building. His Majesty the Sultan accorded attention to empowering them in various fields, as His Majesty assigned a number of senior government positions to some distinguished women of Oman.
The data of the National Center for Statistics and Information indicates that the number of Omani women (aged 15 years and above) working in the government sector reached 95,652 and in the private sector 114,674.
The number of Omani female teachers in the public and private schools for the academic year (2021/2022) reached 43,335. The figures of 2022 show that the number of Omani female doctors in the government sector reached 1,605 and the percentage of Omani female working in craft industries reached 90%. As for the number of retired women registered in retirement funds for the same year reached 26,980 and the number of Omani women's associations till 2022 reached (65).
As for the participation of Omani women in parliamentary work, they constitute 17.6 percent of the members of the State Council and 2.3 percent of the Shura Council during the ninth term (2019-2023).
In this context, Sayyida Sanaa Hamad Al Busaidi, Head of Women's Club for Sports and Cultural Creativity, said, "This day symbolizes national expression of gratitude for the role of Omani women in achieving progress and advancement". She added that Omani women's sports sector is undergoing remarkable growth based on the outcome of women's participation in various games.
For her part, Lujaina Mohsen Al Za'abi, Member of the State Council, said, "Women are accorded great attention in Oman, with the 17thof October designated as Women's Day, in recognition of their achievements and roles in consolidating the country's comprehensive development and renaissance —socially, culturally, economically and sports-wise".
Dr. Arwa Zakaria Al Riyami, Senior Consultant, Haematology, at Sultan Qaboos University Hospital, said, "Omani Women's Day celebrates women's contribution towards building the nation economically, socially and culturally". The anniversary also reflects strive to upgrade the standard of services across various sectors, including education and health sectors, she added.
Dr. Arwa pointed out that women comprise more than 50 percent of the workforce in the health sector, according to official statistics. This is in addition to women's participation in developing national strategies and sustainable plans to secure the future of health services in Oman, she said.
Khawla Rashid Al Rawahi, Director of the Women's Sports Department at the Ministry of Culture, Sports and Youth, said, "Omani Women's Day is a tribute to women's accomplishments and an acknowledgment of thier role in promoting process in Oman.
She spoke about women's role, through the Ministry of Culture, Sports and Youth, in providing an appropriate environment for women's engagement in all types of sports events in Oman, with an eye on global games.
Zainab Mohammed Al Makki, Instructor in the field of personal and human resources development, said that the celebration of Omani Women's Day represents a culmination of women's contribution and accomplishments. The event demonstrates women's creativity and skills in various sectors, said Zainab.
Rawabi Ali Al Salmi, head of operations management at the Youth Centre, said that Omani women have received great attention since the outset of the blessed Omani Renaissance and this interest continued to grow in the Renewed Renaissance. She added that the centre empowers young Omani women in various fields through training programmes and workshops aimed at promoting them in terms of leadership and supervisory positions.
Shaima Ali Al Balushi, a student at the College of Engineering, Sultan Qaboos University, said, "Omani women have been able to innovate and bring about accomplishments in various fields, including health, educational and engineering, to name a few. This stems from women's keenness to promote Oman in various events, regionally and globally, she added.
Meanwhile, Shifa Saif Al Akhzamia, a pianist, said that Omani women have contributed to representing the nation in international forums, in addition to their participation in opening ceremonies at various national and cultural events, locally and abroad.
Razan Hamad Al Kalbani, who won the grand prize at Korea International Women's Innovation Competition and Exhibition, said, "Omani Women's Day is an important occasion that reflects the keenness of Oman's government to promote women, and that the outcome was an ability to strongly contribute to Oman's renaissance. This, she affirmed, was evidenced by the fact that women assumed leadership positions and important roles across various sectors.
Women are taking steady steps towards a brighter future in Oman, notably by occupying important positions at regional and international levels, in all fields and sectors, and this reflects positively on the Omani society. Omani women's international achievements received wide acclaim from specialists around the world. – ONA