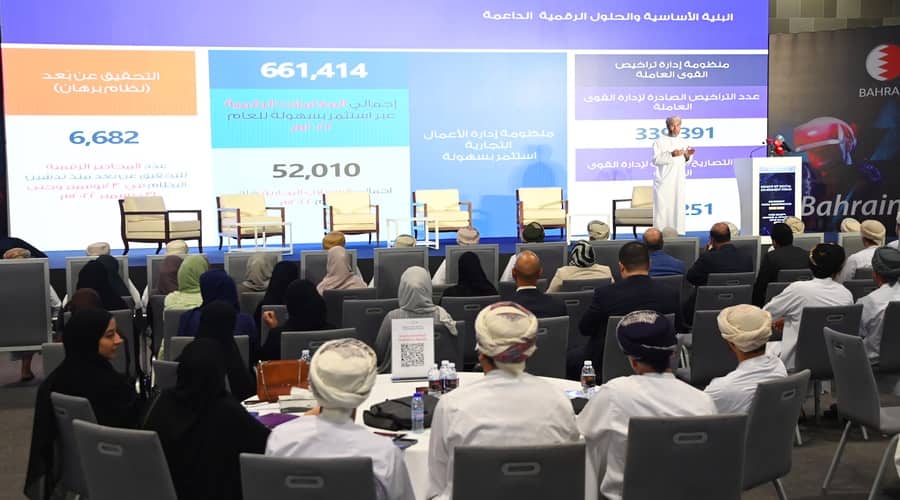 Muscat: Deliberations of the 1st Government Digital Transformation Forum began at Oman Convention and Exhibition Centre today with the participation of 10 government units.
As many as 200 participants and 25 speakers are taking part in the forum, which is organized by the Ministry of Transport, Communications and Information Technology.
During the two-day event, new digital services, solutions and products in the government sector will be launched. The forum highlights efforts and achievements of the government sector in Oman in the field of digital transformation, review distinguished regional and global practices and means of improving institutional cooperation and building government relations, as well as exchanging experiences in knowledge areas of digital transformation.
The forum addresses the most prominent challenges and obstacles facing the implementation of government digital transformation and proposes new solutions and methodologies to overcome them, in addition to exploring new tools that empower national competencies to ensure sustainability, continuous improvement and keeping pace with global changes.
The event touches on four main themes, namely: the digital transformation, the advanced technologies and maximizing the benefit of modern technologies to accelerate digital transformation, the user's digital experience and the data analysis.
A dialogue session was held today with the participation of a number of stakeholders from government units. The session touched on prospects for government digital transformation.
The session also discussed the importance of managing the culture of digital change to create a flexible, innovative government apparatus that builds the future, and the need to hone national skills and empowering their digital capabilities, in addition to promoting government digital innovation.
It is expected that the forum will come up with a set of recommendations that support the government digital integration. It will also present new proposals to accelerate the digitalization of government services, transfer and exchange of knowledge on best practices in the field of digital transformation, in addition to providing feedback on the challenges facing the implementation of digital transformation, and creating an updated database for specialists in the field of digital transformation. – ONA