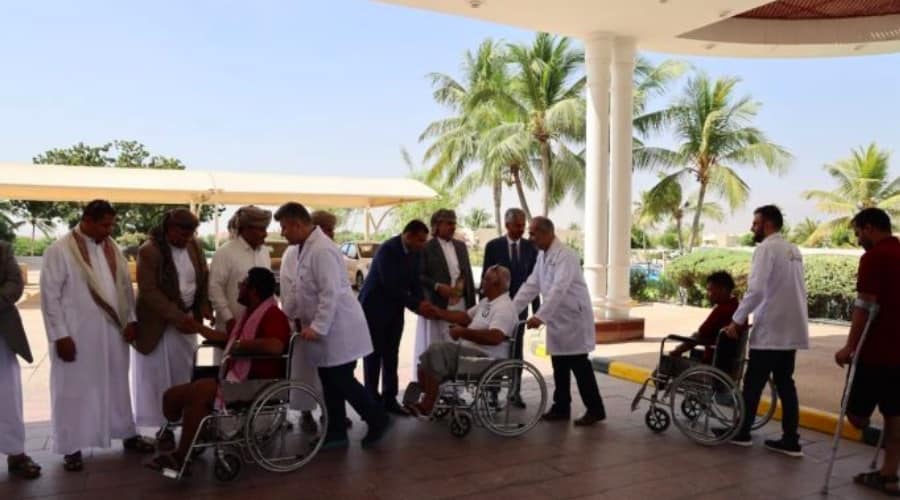 The Arab Center for Prosthetics in Dhofar Governorate celebrated the 52nd National Day of the Sultanate of Oman and received the fifteenth batch of wounded Yemenis.
At the ceremony, which was attended by guests from the Yemeni and Omani sides, and was dedicated to celebrating the 52nd National Day, the Yemeni guests congratulated the Omani people and Sultan Haitham bin Tarik on this occasion, wishing them continued renaissance and prosperity.
The Chairman of the Board of Directors of the Arab Center for Prosthetics, Sheikh Hammoud Saeed Al-Mikhlafi, expressed the extent of gratitude that every Yemeni holds towards the noble fraternal stance that the sisterly Sultanate of Oman honored since its late Sultan Qaboos bin Said, may God rest his soul, to the honorable Sultan and human leader Sultan Haitham bin Tariq Al-Muazzam. It is represented in supporting the Arab Center for Prosthetics and providing all facilities for its establishment and facilitating its work.
"With the advent of the fifteenth batch, the center is about to provide its services to more than 850 cases from various governorates of the Republic and age groups, males and females," said the director of the Arab Center for Prosthetics, Abdel Wahhab Al-Amer.
Al-Amer pointed out that the Arab Center provides limb fitting service to the wounded amputees according to a series of organized procedures and arranged scientific steps that are compatible with the treatment period and are consistent with the protocol and standards of the leading German company Otto Bock in the field of limbs.
The speech of the wounded expressed their thanks and gratitude to the brotherly Omani people for their continuous humanitarian efforts towards the wounded, including amputees. The smile returned to entire families, thanking them and the wise leadership for their unforgettable fraternal stances.