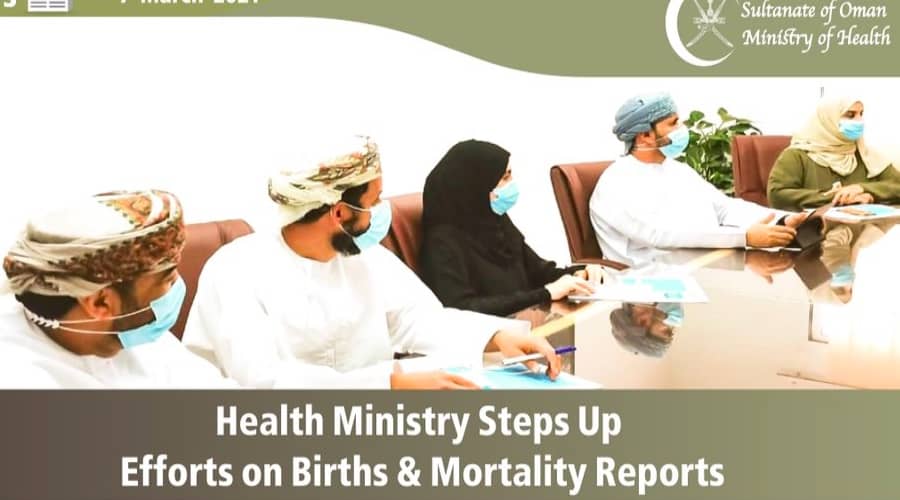 Muscat: The Ministry of Health is exerting tireless efforts to flow information and data between various authorities and concerned sectors in order to complete Ajial System
The tehnical team on the follow-up to completion of births and mortality report convened a meeting to review the mechanism of developing and completing the birth & death reporting program (Ajial)
The meeting was attended by Dr. Halima Al-Hinai, Director General of planning and studies long with Bader bin Suliman Awlad Thani, Director General of Information Technology with, as well as a number of technicians in the related sectors.
The role of the Directorate General of Civil status of Royal Oman Police (ROP) and the National Center for Statistical Information (NSCI) has been commended during the meeting. Moreover, the meeting discussed the most important challenges faced by the incidents reporting system and agreed to improve the procedures and flow of incidents data of birth and death from the health institution reporting the incidents to the issuance of birth or death certificate.
The meeting touched upon the significant role of the concerned citizens and residents to complete the registration, which is reflected in the service level and completing the national statistics and data to support the development plans.
The statistics of births and mortality are a key component in calculating the vital indicators of the Sultanate, on the basis of which the NCSI is updating the statistical and demographic data and indicators annually. Therefore, the Ministry of Health, represented by the Directorate General of Planning & Studies is following-up the process of completing these statistics.
The incidents reporting system of birth & death (Ajial) is an electronic system designated for improving and facilitating procedures for citizens and residents to complete the reporting process. Ajial system is provided at all health institutions that reporting incidents including MOH's institutions, Sultan Qaboos University Hospital, ROP Hospital, Armed Forces Hospital and private health institutions, The concerned person only has to contact the health institutions to complete the procedures and issue the required certificate. said in the statement (MOH).