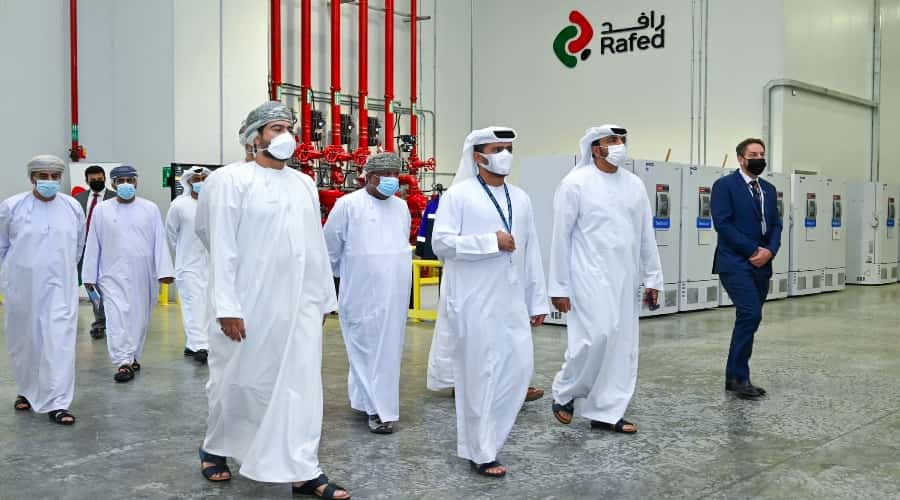 Abu Dhabi: His Excellency Qais bin Mohammed Al Yousef, Minister of Commerce, Industry and Investment Promotion, visited a number of industrial, logistical and investment facilities and companies in the Emirate of Abu Dhabi, United Arab Emirates, on the sidelines of the second Omani-Emirati Forum.
The visit came, according to what was reported by the Oman News Agency, to learn about the experiences, their future plans, the integration of Gulf investments and the opportunities for partnership and joint investments between the Omani and Emirati private sectors.
His Excellency and the accompanying delegation were received upon his arrival at KIZAD by HE Omar bin Hamad Al Suwaidi, Undersecretary of the Ministry of Industry and Advanced Technology in the United Arab Emirates, and Mohammed bin Juma Al Shamsi, CEO of Abu Dhabi Ports Group, who gave a presentation on KIZAD and development happening with it.
His Excellency toured the Abu Dhabi Ports facility for logistics services, warehouses and cold stores for the Hope Coalition project, for storing and distributing COVID-19 vaccines. His Excellency also visited Khalifa Port, the Maritime Navigation Services Center and Abu Dhabi Ports headquarters.
His Excellency also visited Ithmaar Holding Company and was acquainted with the company's officials about the company's role and its various investments in several economic fields, who expressed the company's desire to invest in the Sultanate of Oman and learn about investment opportunities in it.
The delegation accompanying His Excellency included His Excellency Dr. Ahmed bin Hilal Al Busaidi, the Sultanate of Oman's ambassador to the United Arab Emirates, His Excellency Mohsen bin Khamis Al Balushi, Advisor to the Ministry of Commerce, Industry and Investment Promotion and Commissioner-General of the Sultanate of Oman's pavilion at Expo 2020 Dubai, and His Excellency Eng. Rida bin Juma Al Saleh, Chairman of the Chamber's Board of Directors. Oman Commerce and Industry.