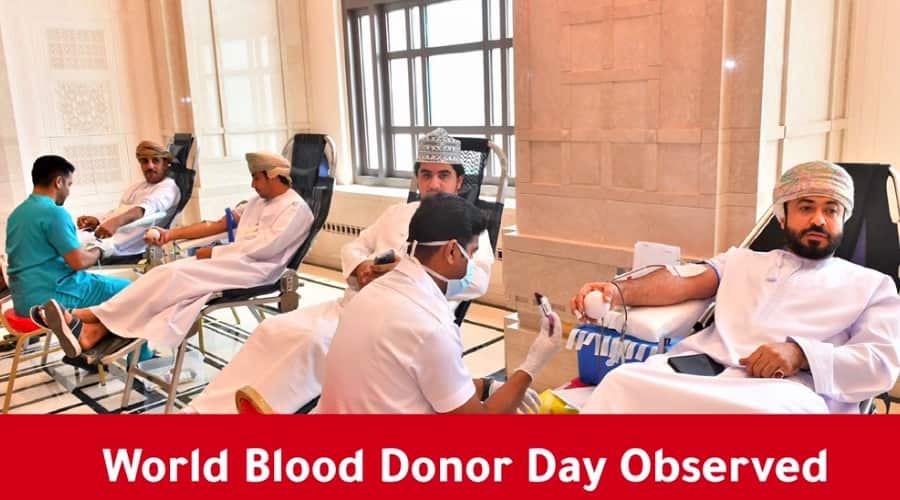 Muscat: Under the them, 'Donating blood is an act of solidarity. Join the effort and save lives, the Ministry of Health represented by the Department of Blood Banks Services marked today (Tuesday) World Blood Donor Day that is observed on June 14 each year. 
His Highness Sayyid Kamil bin Fahd Al Said, Assistant Secretary-General of the Office of the Deputy Prime Minister for Cabinet Affairs attended the event, with the presence of number of MOH senior officials at the Royal Opera House Muscat. 
This year slogan tends to draw attention to the roles that blood donations play in saving lives and enhancing solidarity within communities. The day offers an opportunity to thank blood donors for their humanitarian deed and create wider public awareness of the need for regular, voluntary blood donation to maintain sustainable blood supply. 
Within the celebration, a blood donation campaign was launched from 9am until 5 pm, which was well attended by citizens and residents.
In despite of the pandemic, up to 14% increase of blood units was observed during 2021 compared to 2020 according to Central Blood Bank Statistics, affirming community awareness in this regard.
The initial indicators for the first five months of 2022 also showed an increase in the number of blood units collected by the CBB by up to 16% compared to previous year. 
Moreover, the number of blood units collected by MOH's blood banks has reached 70,555 blood units in 2021, and the percentage of voluntary blood donation reached 93%. Omani blood donors reached 82%, while donors who donate for the first time were 40%.