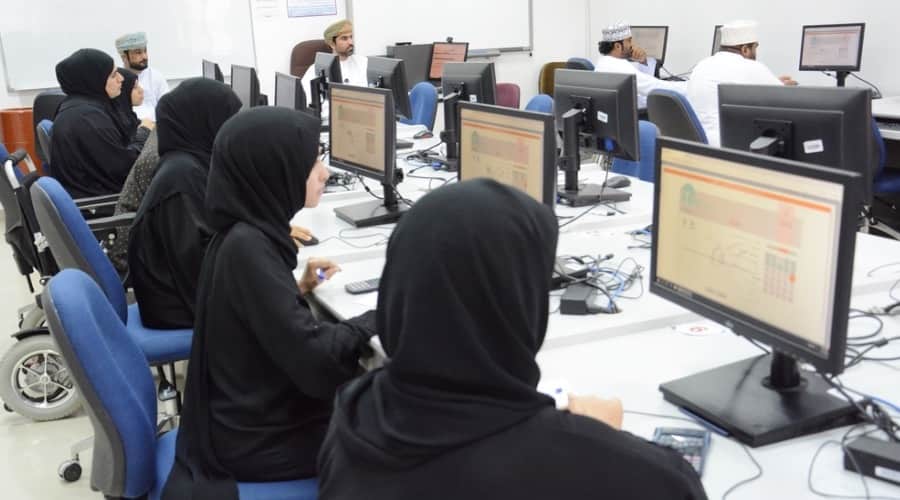 Ibra: The Ministry of Labor (MoL) conducted tests for a number of jobs in government units in North Al Sharqiyah Governorate at the University of Technology and Applied Sciences in Ibra.
Abdullah bin Sultan Al-Sunaidi, Assistant Director of Employment and Replacement in the Government Sector at the Ministry of Labor, said: The Ministry is conducting personal tests for typical jobs in accordance with Announcement No. "6/2023" for competitors from the North Al Sharqiyah Governorate, where"9" male and female citizens, to fill "6" positions in A number of government units in the governorate, affiliated with the Ministries of Education and Health, hold jobs designated for people with disabilities and those in the social security category.
He added that the tests are conducted in a technical manner and are performed by candidates to compete for vacant positions through multiple questions distributed between specialization, general culture, and mental abilities (intelligence).
The results appear immediately upon completion of the tests, and those with the highest scores are nominated for appointment. Al-Sunaidi explained that the testing system approved by the Ministry of Labor in various governorates of the Sultanate of Oman was built with national cadres of Ministry employees and in cooperation with Sultan Qaboos University and a number of government higher education institutions, noting that the questions are constantly reviewed and updated by professors and academics in those educational institutions.
It is worth noting that the next station for the tests will be held in Muscat Governorate next week, in which the people of the governorate will compete for the jobs offered.