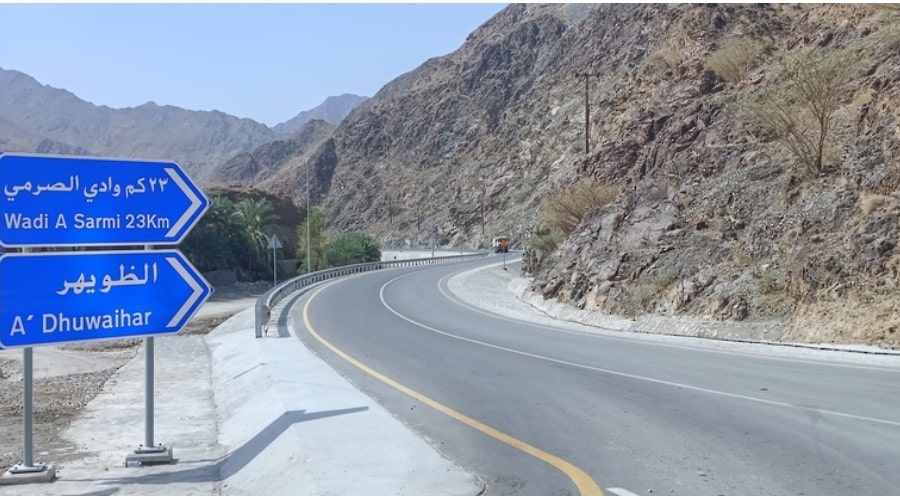 Al Khaboura: The Ministry of Transport, Communications and Information Technology opened traffic movement on Wadi Al Sarmi Road in the Wilayat of Al Khaboura in the North Al Batinah Governorate. The road witnessed the completion of the project to repair damage to the road caused by weather conditions and pave the existing dirt road.
Engineer Younis bin Talib Al-Adawi, project engineer at the Ministry of Transport, Communications and Information Technology, explained that the project work included constructing a road using supporting walls and concrete paving with a total length of (approximately 2 km), in addition to repairing damaged protections in some parts of the road, with the construction of two box culverts measuring (2 km). In 1 meter) each with 3 side drainage channels with a diameter of 1.2 meters each.
He pointed out that the implementation of the project work was taken into account according to the standard specifications approved in the Road Design Manual in the Sultanate of Oman, and that it was provided with traffic safety requirements of metal barriers, indicative regulations and ground paints.
It is noteworthy that the opening of this road will contribute to facilitating and streamlining traffic movement and serving the areas and residential communities in Wadi Al Sarmi up to the Al Dhuwayhir area, in addition to stimulating the tourism movement in the state.