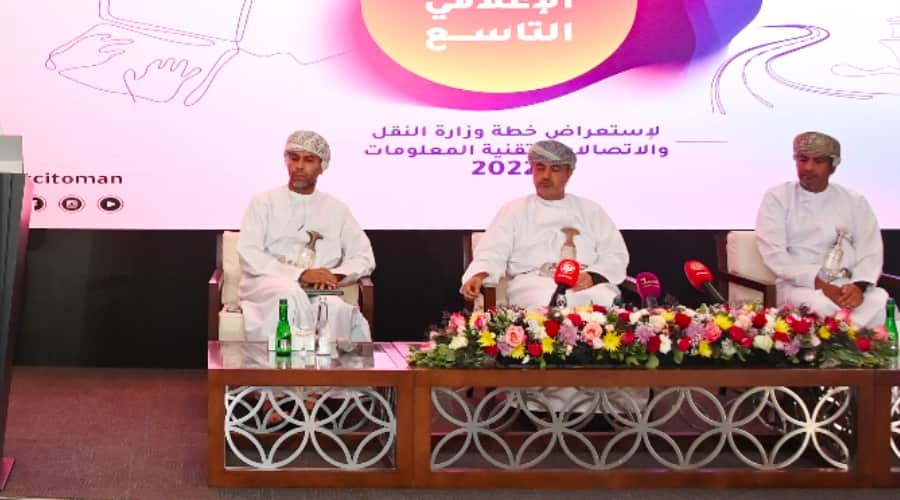 Muscat: Performance Indicators of the Ministry of Transport, Communications and Information Technology point to a prospective rise of at least 5% in direct inbound container traffic in 2022, coupled with a 10% growth in revenues of land transport and maritime activity.
The Ministry pointed out that the number of vessels received by Omani ports rose by 1.3%,while TEU container handling grew by 2%.
This was unveiled during the 9th Media Forum organized by the Ministry under the auspices of Eng.Said Hamoud Al Maawali, Minister of Transport, Communications and Information Technology.
The Ministry announced a plan to develop the land transport sector, namely the setting up of a centre for controlling means of land transport, upgrading the level of hire-vehicle services and regulating transport.
The Ministry also unveiled a navigation system initiative, a maritime zone for ship repair, a water taxi and ship registration project to be named Al Nuomani.
The Ministry's government digital transformation programme (2022) includes launching the first phase of the National Unified E-Government Services Portal, unrolling 88 e-services rendered to citizens and the business community, streamlining procedures and re-engineering of 70% of basic e-government services.
The four also touched a projects to incentivize digital economy in 2022, including an initiative name "Jadara" for introducing advanced technical products into government establishments and firms. The plan also envisages investment incentives and cybersecurity services, apps and Al Services, training nationals and honing the skills of manpower specialized in modern technologies.
Al projects include a programme to kickstart a parcel delivery service and capacity building initiative.
The Ministry also launched some project and initiatives of the National Space Programme. These include devising policies and national strategies for the space sector, a space club project and the open Satellites Data Platform, in addition to the addition of a 'space corner' in the Children's Museum.
Major achievement made in 2021 include the partial opening of Adam-Haima-Thamrait dualization project, the finalization of the National Indicators Initiative for Logistics Sector Efficiency (Tamayyuz). It also opened the Suwaiq-Hoqain dualization project and the invitation of investment bids for the management, operation and development of Khasab and Shinas ports.
The 2021 official opening of the Rub-el-Khali carriageway figures as another major milestone in the transport and logistics sector, said the Ministry, noting that the project swings the door fully open for social and economic integration between the Sultanate of Oman and the Kingdom of Saudi Arabia due to the fact that the highway is linked to ports and airpots in both countries.