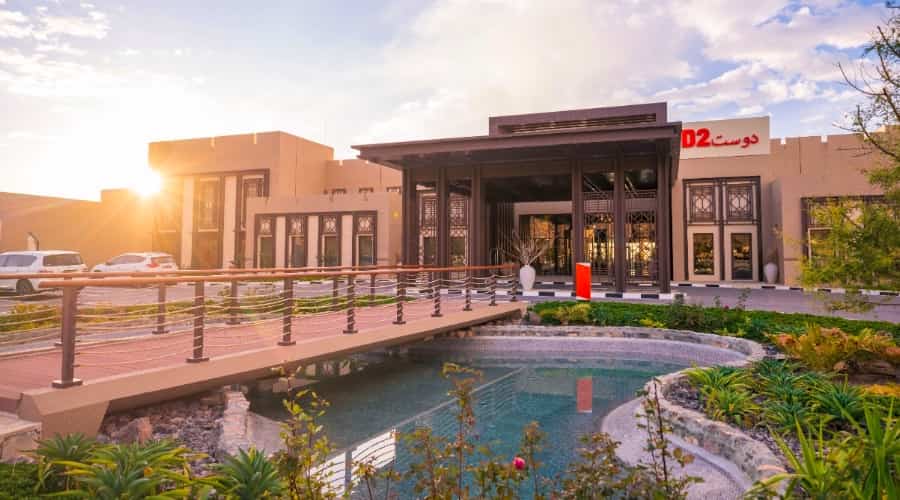 Muscat: OMRAN Group continues to further the priorities of Oman's National Tourism Strategy 2040. The Group today officially inaugurates the iconic dustiD2 Naseem Resort, Jabal Akhdar, reiterating the country's position on the global leisure tourism map.
The inaugural event was held under the patronage of Dr. Khamis Saif Al Jabri, Chairman of the Oman Vision 2040 Implementation Follow-up Unit.
The opening ceremony was attended by key government officials and senior leaders from the sector.
Built with an investment of RO 24 million, dusitd2 Naseem Resort is another milestone that reflects OMRAN's endeavors to expand its rich portfolio of hospitality assets and tourism destinations. Located in Al Jabal Al Akhdar, dusitD2 Naseem Resort offers over 250 rooms and features breath-taking views of the surrounding Al Hajar mountain range. One of the most unique offerings at dusitD2 is the Sultanate of Oman's first 8,000 sqm Adventure Park. The resort offers an extensive range of hotel facilities and activities inspired by the natural characteristics of Al Jabal Al Akhdar, making it ideal for both adrenaline-seekers and leisure travellers.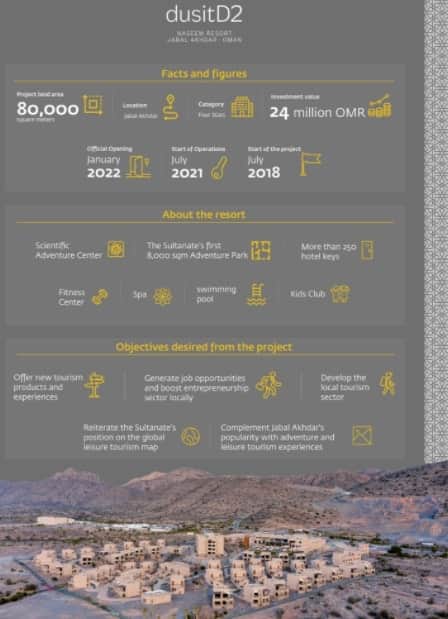 Commenting on the inauguration of the project, Dr. Khamis Al Jabri said: "This project will play an instrumental role in supporting the efforts of achieving the objectives of Oman Vision 2040 under the Economy and Development pillar, targeting two national priorities: Economic Diversification and Fiscal Sustainability, and The Private Sector, Investment, and International Cooperation, Additionally, it supports the Environment and Natural Resources priority under Environment Sustainability pillar."
"The resort sets a benchmark for tourism development through the proper utilization of natural resources to achieve long-term goals, support economic diversification efforts, boost the direct and indirect contribution of the tourism sector to the GDP, and generate direct employment opportunities for the national workforce" Al Jabri further stated.
Aligning itself with Oman Vision 2040 and the National Tourism Strategy to support the national economy, the project resonates with OMRAN Group's mandate of developing the domestic tourism sector through the creation of sustainable tourism projects.
On this occasion, Hashil Obaid Al Mahrouqi, CEO of OMRAN Group, said, "The debut of dusitD2 Naseem Resoirt, which is the second hotel owned and developed by OMRAN Group in Al Jabal Al Akhdar after Alila Jabal Akhdar will meet the rising popularity of A'Dakhiliyah Governorate and Al Jabal Al Akhdar in particular. The resort will introduce a new concept for leisure and relaxation through new tourism experiences. It will also support the government's effort towards making the Sultanate of Oman a remarkable tourism destination."
Suphajee Suthumpun, Group CEO, Dust International Said: "We are delighted to make our Oman debut with this vibrant resort which showcases the heritage, culture, and visual splendour of the destination is a truly distinctive fashion. Given the rising popularity of Al Jabal Al Akhdar as a tourist destination, dustinD2 Naeem Resort will harness the potential of this scenic area offering guests an amalgamation of leisure, entertainment and adventure."