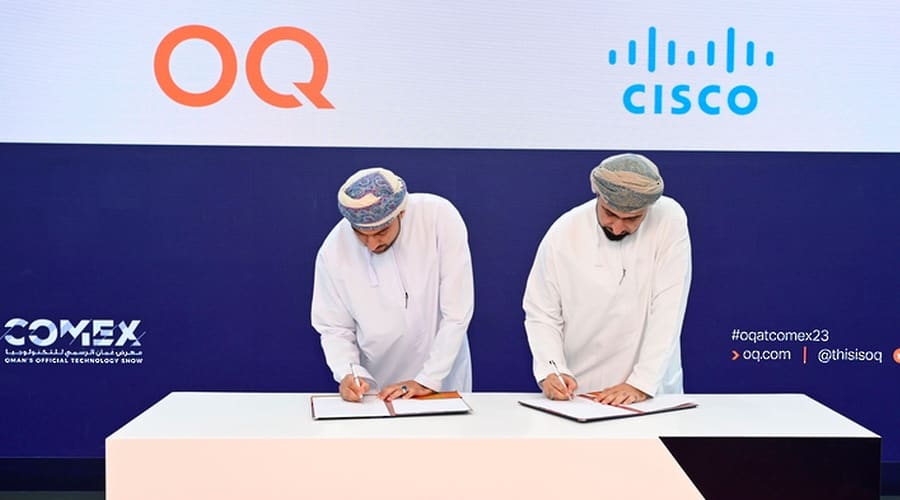 Muscat: OQ, the global integrated energy group, signed 8 agreements and memoranda of understanding (MoUs) focused on digital transformation and the technology of the fourth industrial revolution. These collaborations were established with specialized international companies and small and medium enterprises (SMEs).
The agreements were formalized on the sidelines of OQ's participation in the COMEX 2023 Exhibition, demonstrating the group's commitment to staying abreast of technological advancements and enhancing operational efficiency across its facilities and assets.
Ashraf Hamad Al Ma'amari, Chief Executive People, Technology, and Culture at OQ, and Maryam Ahmed Al Shaibani, OQ's Vice President of Integrated Digital Solutions signed the agreements.
The first agreement involved a partnership with Oman Data Park (ODP) to optimize cloud systems. The second agreement, signed with Accenture, will facilitate the development and operation of OQ's digital factory, accelerating the group's digital transformation journey.
Furthermore, OQ forged alliances with Deloitte and SAP to introduce the SAP ERP 2.0 system, along with Ariba, Concur, and other innovative applications.
In an effort to enhance remote support capabilities, OQ signed agreements with Marmol Integrated LLC and Data Capture Systems LLC, enabling technicians to utilize augmented and virtual reality technology through devices like virtual reality headsets and camera-equipped helmets. These tools will enable seamless communication with experts in remote areas.
Additionally, OQ entered into an agreement with BHC3i, aiming to leverage advanced artificial intelligence technology for predictive maintenance operations.
Another MoU was signed with SAP to explore the potential transition to the SAP S4-Hanna system, which offers improved business processes and streamlined data, transaction, and analytics management. The eighth agreement was inked with CISCO to explore avenues for enhancing the security of OQ's networks.
Commenting on these collaborations, Ashraf Al Mamari stated, "OQ seeks to partner with international companies, national firms, and SMEs in the technology and digital transformation fields to enhance the in-country added value. We believe in the importance of sharing experiences and knowledge, as well as developing the expertise of individuals in these areas."
He emphasized that OQ is guided by a digital transformation strategy that enhances work efficiency, reduces costs, and prioritizes personnel safety. Al Ma'amari highlighted that OQ awards digital transformation contracts to specialized national companies, empowering them in these domains.
He concluded, "OQ remains committed to integrating cutting-edge technologies within its facilities and operations. Our participation in COMEX 2023, showcasing 11 new technologies, reflects OQ's vision for the future".
Representatives from the companies involved in the digital transformation agreements expressed their enthusiasm for the partnerships and their commitment to the successful realization of OQ's plans for leveraging fourth industrial revolution technology. – ONA